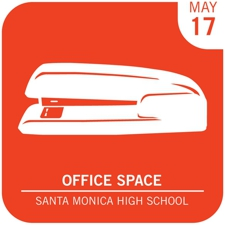 This is a great date night idea for couples to enjoy a great movie, good food and live music on a budget and enjoy the spring weather.
Santa Monica, CA (PRWEB) May 12, 2014
Eat|See|Hear, an event series screening outdoor movies in LA, announces the second movie showing this season. Eat|See|Hear will show Office Space on Saturday, May 17 in the Memorial Greek Amphitheatre at Santa Monica High School. The event begins at 5:30 p.m. Live music will begin at 7:30 p.m. and the movie will begin at 8:30 p.m.
The high school is located at 601 Pico Boulevard in Santa Monica, CA with the event entrance on 4th Street. There are several accessible parking options available. Attendees may park across the street in the Civic Center parking structure at 333 Civic Center Dr. Limited on-street parking is also available as well as bike parking for those arriving on two wheels. The location is dog-friendly and attendees are encouraged to bring their four-legged friends who will receive a complimentary dog biscuit at the door.
Office Space is an American comedy released in 1999. Directed by Mike Judge and starring Jennifer Anniston and Ron Livingston, the film follows a group of disgruntled office employees and has spawned a memorable internet meme of Gary Cole's character Bill Lumbergh. The film is rated R and has a running time of 89 minutes.
The event on May 17 will include a performance before the film by local LA band The End of Summer. LA food trucks including MOE Eggrolls, White Rabbit, Good Greek Grub, Fuego Fusion Tacos, Coolhaus and Brasil Kiss will also be on site providing dinner, desserts and everything in between for event goers.
"This movie is such a classic and has grown a cult following. The character of Bill Lumbergh is engrained with people of all ages now, thanks to those memes proliferating online," said Sharon Sperber, Executive Producer of Eat|See|Hear. "This is a great date night idea for couples to enjoy a great movie, good food and live music on a budget and enjoy the spring weather."
Eat|See|Hear is LA's premier outdoor movie, food truck and live music event series that brings an evening of fun to Los Angeles-area communities each summer. The third annual series is presented by SHOWTIME, featuring up-and-coming bands from the local music scene, the hottest food trucks, and the only 3-story high, 52-foot wide inflatable movie screen west of the Mississippi with the highest quality HD-projection and digital surround sound. Eat|See|Hear is produced by LA-based Trailhead Marketing, Inc. with audio-visual provided by Hollywood Outdoor Movies. For more information about the third annual Eat|See|Hear summer event series, consumers are encouraged to visit the Eat|See|Hear website at http://www.eatseehear.com, as well as the Eat|See|Hear Facebook page, Twitter feed (@EatSeeHear) and Instagram (@EatSeeHear) for the latest updates.