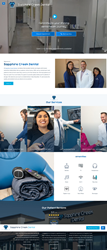 We pride ourselves on the high-quality dental care we deliver to our valued patients. It is such an honor to receive this recognition as a Top 2020 Patient Rated Dentist from Find Local Doctors, says Dr. Archie Gomez
NEW BRAUNFELS, Texas (PRWEB) August 20, 2020
Sapphire Creek Dental is located at 2180 State Hwy 46, W. Suite 106 in New Braunfels, TX. Find Local Doctors has recently awarded this location the title of being a 2020 Top Patient Rated New Braunfels Dentist. This practice has received a large number of five-star ratings and superior reviews from real patients. Find Local Doctors is a trusted online directory that helps consumers easily locate top-notch, reputable dentists and physicians in their area. This well-respected practice is among an exclusive group to receive a high volume of outstanding patient reviews.
This state-of-the-art family dental clinic offers a wide variety of oral health care services, ranging from general, restorative and cosmetic dentistry to orthodontics, pediatric dentistry, emergency care and special needs dentistry. Archie Gomez DMD and his team offer exceptional dentistry, utilizing cutting-edge technology, such as digital x rays and intraoral cameras, for safe, highly-efficient oral health care. Sapphire Creek Dental is committed to its patient's lifelong dental health journey. The team provides personalized treatment plans to give patients access to the best information regarding their oral health. The welcoming practice offers a stress-free, comfortable atmosphere with many amenities, including blankets, headphones, a beverage bar, play area and flat-screen TVs to watch during appointments. Sapphire Creek Dental also makes visits convenient by having extended hours from 7am-7 pm and offering Saturday appointments. Most dental insurance plans are accepted, and they have payment options available to meet all types of budget needs. Many of the practice reviews have mentioned the professional and compassionate attention that Dr. Gomez and his staff provide.
"We pride ourselves on the high-quality dental care we deliver to our valued patients. It is such an honor to receive this recognition as a Top 2020 Patient Rated Dentist from Find Local Doctors," says Dr. Archie Gomez
More about Sapphire Creek Dental:
Dr. Archie Gomez and his skilled dental team have the expertise to help you reach your dental health goals. Sapphire Creek Dental strives to build long-lasting relationships with patients and their families by providing the highest level of oral health care. Please visit http://www.sapphirecreekdental.com or call (830) 400-4035 for more information or to schedule an appointment.