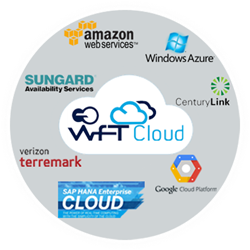 A cloud migration solution that truly accelerates business efficiency and agility!
Orlando, Florida (PRWEB) May 17, 2017
WFT Cloud, an SAP partner, today announced that it will participate at SAPPHIRE NOW® and ASUG Annual Conference being held May 16–18 in Orlando, Florida in booth #468.
WFT Cloud is releasing a minimal to no-risk migration package that provides a zero-dollars-down option for cloud re-platforming. Essentially, this solution allows WFT clients to focus more on driving business value from their data and operations while gaining early return on investment by eliminating upfront costs that typically range from US$1 to $3 million. As a result, WFT will provide a cloud migration solution that truly accelerates business by offering a proactive cash-flow management option.
For organizations that need an integrated infrastructure with reduction in operational/IT costs, this unique migration package is a powerful enterprise solution offering the same patented technology and leading expertise WFT is noted for.
SAPPHIRE NOW and ASUG Annual Conference are the world's premier business technology event and largest SAP customer-run conference, offering attendees the opportunity to learn and network with customers, SAP executives, partners and experts across the entire SAP ecosystem.
About WFT Cloud
WFT Cloud provides cloud migration services for SAP® software to help users plan, access and migrate existing applications to the cloud. Through the use of applied cloud techniques and innovative tools, WFT Cloud's migration services provide simplified and cost-effective SAP application migration services to the cloud. With its broad cloud portfolio, robust data privacy and deep expertise, WFT Cloud provides its customers with the security and scalability to realize the benefits of the cloud. WFT, with its expertise in SAP infrastructure and application management, has collated its integration experience to optimize and migrate SAP applications that can functionally co-exist with on-premise applications.
# # #
SAP, SAPPHIRE NOW and other SAP products and services mentioned herein as well as their respective logos are trademarks or registered trademarks of SAP SE (or an SAP affiliate company) in Germany and other countries. See http://www.sap.com/corporate-en/legal/copyright/index.epx for additional trademark information and notices. All other product and service names mentioned are the trademarks of their respective companies.
For press inquiries and more information contact:
Krista Medlock, 214.516.1709, krista(at)wftus(dot)com