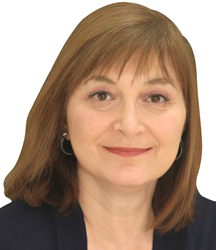 Everest Group is extremely fortunate to have Sarah Burnett at the helm of one of our fastest growing research and advisory areas
DALLAS (PRWEB) September 05, 2018
Sarah Burnett—who has been named one of 50 most influential women in UK IT by Computer Weekly in 2016, 2017 and 2018; was shortlisted for AI-leader of the year by Information Age in 2018; and was deemed an outsourcing A-lister by the Global Sourcing Association in 2016/2017—has been elevated to the position of executive vice president and distinguished analyst at Everest Group, the global sourcing research and advisory firm where she has served as vice president for the past 4 years.
Burnett, a well-known industry analyst and market influencer, leads the firm's Service Optimization Technologies (SOT) research program globally. As part of this role, she researches and advises clients on automation technologies, such as Robotic Process Automation (RPA), Artificial Intelligence (AI), and global service providers' capabilities in the field. Based in London, she also serves European clients across Everest Group's research areas.
In the past six months alone, Everest Group's team of analysts devoted to the SOT practice has doubled and has presented their expertise and findings at more than 20 events around the world. In addition, the team has published a dozen reports including technology assessments, best practice guides, and market analyses, such as the recently released RPA Technology Vendor Landscape with Products PEAK Matrix™ Assessment 2018. Coverage of these disruptive technologies and related technologies will continue to expand as more team members join in the coming months.
"Everest Group is extremely fortunate to have Sarah Burnett at the helm of one of our fastest growing research and advisory areas," said Eric Simonson, managing partner at Everest Group. "Her expertise in automation is recognized and valued around the globe, and under her leadership, our firm has established a preeminent reputation in the field based on the quality of our research, the impact of our thought leadership, and the caliber of clients we serve."
About Everest Group
Everest Group is a consulting and research firm focused on strategic IT, business services, engineering services, and sourcing. We are trusted advisors to senior executives of leading enterprises, providers, and investors. Our firm helps clients improve operational and financial performance through a hands-on process that supports them in making well-informed decisions that deliver high-impact results and achieve sustained value. Our insight and guidance empowers clients to improve organizational efficiency, effectiveness, agility and responsiveness. What sets Everest Group apart is the integration of deep sourcing knowledge, problem-solving skills and original research. Details and in-depth content are available at https://www.everestgrp.com.
Contact:
Andrea M. Riffle, Everest Group
andrea.riffle(at)everestgrp(dot)com
Jennifer Fowler, Cathey Communications for Everest Group
+1-865-405-6380
jennifer(at)cathey(dot)com