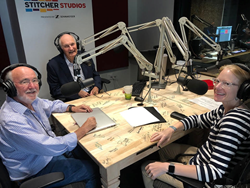 I think all of us who have worked with Sarah will boast one day that we were smart enough to choose her.
LOS ANGELES (PRWEB) August 12, 2020
Veteran business and media executive, Sarah Chase, has been named COO and Executive Producer at Wild Bill—a creative content production company and commercial agency—jointly run by co-founders Samantha Hart and James Lipetzky. Chase spent much of her career working under the close mentorship of renowned actor, Alan Alda.
Alda says, "Sarah has been COO of my company and executive producer of my podcast, 'Clear+Vivid®,' for the past four years, and I've seen her skill and ingenuity in full bloom. Wild Bill is lucky to have landed her. I think all of us who have worked with Sarah will boast one day that we were smart enough to choose her."
Hart comments, "In a time when so few companies are hiring, we are confident that it's a valuable investment to enlist Sarah Chase's immense talents. We were drawn to her enormous breadth of experience in communication-focused businesses. Her track record with Mr. Alda's company is impressive—having helped develop and build it into a multi-million dollar entity. Sarah is an incredibly passionate and articulate woman, who immediately connected with the unique culture and spirit of Wild Bill."
Chase joins Wild Bill from Alda Communication Training Company (ACT) where she served as Chief Operating Officer. Along with Alan Alda, Chase helped develop and build ACT into a multi-million dollar company that was structured as a one-of-its-kind private-public partnership with the Alan Alda Center for Communicating Science at Stony Brook University. All of ACT's profits were contributed to the Alda Center to further enhance research and innovation in STEM communication.
Chase also served as executive producer and voice-over artist for Alda's award-winning podcast, "Clear+Vivid®." Chase helped Alda, and co-executive producer, Graham Chedd develop the podcast for Stitcher. Chase produced over 100 episodes for the podcast, which has since had over 11 million downloads. Notable guests she worked with directly include Tom Hanks, Paul McCartney, Julie Andrews, Madeleine Albright, Tina Fey, Michael J. Fox, Judge Judy, Isabella Rossellini, and Sarah Silverman.
"It's an honor to join this stellar, independent-minded team at Wild Bill," Chase said. "From my first meeting with Samantha, I totally understood her vision for the future of content creation and immediately related to the creative vibe. Coupled with James' directing talent, visual perspective, and story-telling passion, we will forge ahead, no matter what is happening in the world, to navigate Wild Bill into this newly emerging world of ultra-connected, authentic storytelling and purpose-driven content production."
About Sarah Chase
Sarah Chase began her career in Washington, DC as a government relations executive, before transitioning to media, marketing, communications, and business. She has worked with executive teams in the United States, Europe, and Asia to transform ideas into profitable business reality, launching several media ventures, digital start-ups, cable networks and podcasts. Chase specializes in using creative media content and storytelling to effectively outreach with the general public, policymakers, and global clients.
About Wild Bill
Wild Bill is a creative content and commercial agency specializing in real, authentic stories for nonprofits, brands, and start-ups. Founded by Samantha Hart and James Lipetzky, Wild Bill has created content for United Way, American Express, The Benjamin Marshall Society, Microsoft, and the LA-based non-profit A Place Called Home, to name a few. "License to Operate," their 2015 feature documentary about reformed gang members in Los Angeles won Best Documentary Feature at the Highland International Film Festival. The agency is now expanding its 2019 short on the life of famous Chicago architect Benjamin Marshall into a pilot for a series with producer Valerie Gobos, and Hart's literary memoir, "Blind Pony" will be released this fall.
Website: http://www.wildbill.la