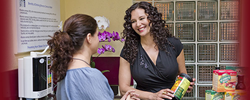 The Sara Soulati Health For Life Program is for lifestyle modification to prevent and fight cardiovascular disease. ~Sara Soulati, CEO of Global Cardio Care
Los Angeles CA (PRWEB) August 13, 2014
Sara Soulati, CEO and founder of Global Cardio Care, Inc., a firm that manages physician practices that deliver EECP® therapy, today announced availability of non-GMO, vegan food products to help prevent and reverse risk of cardiovascular disease for people who live in urban Los Angeles.
Since 2002, when Sara Soulati headquartered Global Cardio Care in Inglewood, California, she has served a high population of African-Americans who have little access to vegan, organic or wholesome foods. Soulati is selling a wider variety of vegan breakfast and lunch foods that are all non-genetically modified and without soy. The frozen or refrigerated foods Soulati sells at Global Cardio Care are sold from suitable temperatures as in super markets.
"In my program, the Sara Soulati Health For Life Program, I teach people about the benefits of a vegan lifestyle," said Sara Soulati, CEO of Global Cardio Care, Inc. in Los Angeles. "No one can prevent or fight cardiovascular disease without also modifying risk factors, and this includes eating organic, anti-inflammatory (no animal base) foods with moderate exercise.
"The people in Inglewood now have a place to come to purchase foods that are high in good fats, plant proteins, whole grains and non GMO, non soy, low salt, and low sugars. It's the first time anyone has paid attention to nutrition in the community."
When people visit Global Cardio Care, they can select from nearly 100 products from good oils and non-dairy beverages to cereals, gluten free pizzas and gluten-free pasta. The company also sells wheat grass shots as well as reverse osmosis Kangan water. For more information, contact Global Cardio Care at 310-412-8181 or visit its website at GlobalCardioCare.com.
About Sara Soulati
Sara Soulati is CEO and founder of Global Cardio Care, Inc. a practice she launched in 2002 to help bring access to nutrition and health care services to people in Los Angeles. She innovated the Sara Soulati Health For Life Program which is a daily vegan nutrition and exercise program with coaching, assessment and instant feedback. The program is a lifestyle modification program to help people fight and prevent cardiovascular disease. It is exclusively available at Global Cardio Care.