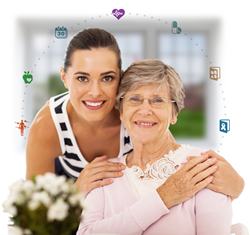 iCancerHealth is a useful toolkit for sarcoma patients and caregivers looking for help
Mill Valley, California (PRWEB) October 12, 2015
Sarcoma Alliance and Medocity will launch an app on Oct. 12 to help sarcoma patients manage their overall care, while also enabling them to access important health information and community support. The Sarcoma Alliance, based in Mill Valley, Calif., provides education, information and support to people affected by sarcoma, a rare cancer of bone, muscle and other connective tissues.
"We've extensively reviewed the app and its value to patients and caregivers, and are excited about this partnership," said Alison Olig, executive director of the Sarcoma Alliance and a survivor of rhabdomyosarcoma. "We will have an entire library of important sarcoma resources on the app, in addition to the innovative health information coordination and management the app provides. iCancerHealth is a useful toolkit for patients and caregivers looking for help."
Medocity launched iCancerHealth to provide a holistic patient-centric support to cancer patients.
"Medocity is excited to partner with Sarcoma Alliance as it aligns with our mission to empower cancer patients, survivors and caregivers in the task of managing care at home," said Raj Agarwal, CEO and President of Medocity. "This partnership further enhances our goals of offering coordinated care, engagement and education to cancer patients, and we look forward to making a positive difference in their lives."
iCancerHealth lets you track your symptoms, manage your medications, and involve a caregiver in your care. You can even share experiences, ideas and support with other patients, email your health status to your doctors, and much more. Use of this app has been donated to the Alliance and is free to download by their constituents.
The app can be used on mobile devices (App and Play Store) and desktop computers. By supporting patients and improving communication with their caregivers and healthcare teams, Medocity hopes to impact the overall quality of support that a patient receives during and after their journey with cancer.
About Sarcoma Alliance
The Sarcoma Alliance is a 501(c)(3) organization founded in 1999, with a mission to provide guidance, education and support to everyone affected by sarcoma. We assist men and woman of every age group and sarcoma subtype throughout the world. Our programs include a variety of support programs, grants for patients to see sarcoma specialists, educational resources, and awareness efforts for this rare cancer. To join the Alliance or to learn more, visit sarcomaalliance.org.
About Medocity
Based in Morristown, N.J., Medocity's mission is to provide a virtual coordinated care platform that bridges the gap between the clinic and the patient's home. This is accomplished by managing the patient's care utilizing a proprietary, interactive and rules-based mobile solution designed to optimize the patient journey, improve quality of care, and effectively reduce avoidable health care costs in the system. Medocity's vision is to provide a variety of offerings in multiple disease states that will ultimately enable transformation and innovation of healthcare delivery and patient care. To learn more, visit http://www.medocity.com.
For a better idea how iCancerHealth can support you, please watch https://vimeo.com/116205479.
Contact Information
Alison Olig
Sarcoma Alliance
http://sarcomaalliance.org
415.381.7236
Andrew Schutt
Medocity, Inc.
aschutt(at)medocity(dot)com
973.679.8235
Media inquiries: media(at)medocity(dot)com