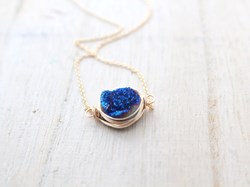 These Druzy quartzes are absolutely enchanting.The colors are gorgeous and the stones reflect light and sparkle like diamonds. The "Druzy Solitaire" necklace is a true reflection of my design aesthetic.
Portland, Oregon (PRWEB) September 11, 2013
Portland, Oregon's Saressa Designs (http://www.saressadesigns.com), in association with The Artisan Group®, is pleased to announce it will be gifting its wire-wrapped "Druzy Solitaire" necklace to celebrities, VIPs and the press attending GBK's Celebrity Gift lounge in honor of the nominees and presenters of The 65th Annual Primetime Emmy Awards. The by-invitation-only Gift Lounge will take place September 20-21 at an exclusive location in Hollywood, California.
For the Primetime Emmys gifting, Saressa Designs designer/owner Rachel Hughes decided to put the focus on a stunning collection of Druzy quartz gemstones in Gray, Cobalt, Snow White and Multi-Colored. Each necklace features a Druzy quartz hand-wrapped with 14k gold filled wire in Hughes' signature bezel style. The resulting Druzy quartz pendant is suspended on a delicate yet strong 14k gold filled chain. Recipients will find the necklace nestled inside a beautiful Saressa Designs gift box.
"These Druzy quartzes are absolutely enchanting," remarked Hughes. "The colors are gorgeous and the stones reflect light and sparkle like diamonds. The "Druzy Solitaire" necklace is a true reflection of my design aesthetic and is sure to complement and easily integrate into many wardrobe styles."
Watch a Saressa Designs video.
In other Saressa Designs news, the company's "Dew" earrings in Lapis Lazuli were recently selected by wardrobe stylist Leigh Leverett to be worn by character Caroline (actress Candice Accola) on Season 5, Episode 5 of "The Vampire Diaries," airing this fall on The CW Network.
Hughes says the selection of her earrings for use on the show was especially rewarding given the careful thought that went into deciding what piece to submit to the stylist. "Ultimately, I went with a custom version of my popular, hand-wrapped, 14k gold filled "Dew" earrings, using a Lapis Lazuli briolette instead of Moss Aquamarine. I chose Lapis not only because the stone has a history on "The Vampire Diaries" but because I knew the color would really pop on the screen."
Saressa Designs "Arrow" necklaces also found their way into The Artisan Group® celebrity swag bags, presented to celebrities as part of GBK's Styling Lounge for 2013 New York Fashion Week earlier this month.
Saressa Designs takes a handcrafted approach to adornment with a line of wire-wrapped gemstone jewelry including bracelets, necklaces, rings and earrings that Hughes designs and creates out of her home studio in Portland, Oregon. The company specializes in jewelry that incorporates precious metals, including rose gold and hand-cut gemstones that can be customized to order.
Hughes describes her designs as lightweight and minimalist, with an elegant and slightly rustic feel and notes, "These pieces are terrific alone but you can also layer them to create a statement look." The company's best sellers are its "Moss Aquamarine Solitaire" and "Delgado" necklaces, as well as its hammered bangles.
Saressa Designs jewelry is available on line at saressadesigns.com and at select boutiques and art shows.
To learn more about Saressa Designs and its participation in GBK's Primetime Emmys Gift Lounge, contact Rachel Hughes at (503) 869-8826 or by email. To learn more about The Artisan Group, visit theartisangroup.org.
About Saressa Designs
Rachel Hughes has always been a creative thinker and artist at heart. After busy, rough-and-tumble days with her two sons, she sits down to link, wrap and hammer precious metals, gemstones and Swarovski crystals into high quality, feminine works of art. In 2004 she officially launched Saressa Designs (http://www.saressadesigns.com) and today offers a line of beautifully handcrafted jewelry that combines a minimalist, elegant, rustic and soft statement approach. Rachel lives with her husband and two sons in Portland, Oregon where she designs from her in-home studio.