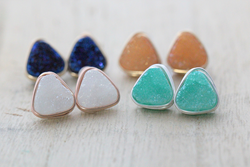 ...a triangular crush of captivating quartz.
Portland, OR (PRWEB) August 13, 2014
Saressa Designs (http://www.saressadesigns.com) has had its Triangle Druzy Studs selected as a "Shop Jewelry" lifestyle pick on Blake Lively's recently launched site, "Preserve."
The 8mm Triangle Druzy Studs showcase shimmering Druzy quartz set in hand-wrapped gold wire bezels. Preserve describes the earrings as a "triangular crush of captivating quartz [that is] thoroughly modern…simple, soft and wearable, even for every day." Since appearing on Preserve, the earrings have received praise from Refinery 29, Glamour, Vogue, Simply Giggles, Yahoo Shine and others for their feminine yet distinctly modern look, pretty sparkle and affordable price point. The Studs are available in Blue, Gold, Mint and Rust Orange and start at $30.00.
Discussing her new partnership with Preserve, Rachel Hughes, jewelry designer and founder of Saressa Designs noted, "When I started designing jewelry 10 years ago, my expectations were pretty small. I wanted to make a cohesive collection of quality jewelry I could wear and wanted to wear, [that would] stand out as original and express individuality in its presentation. There's always the hope that something big can happen but also the reality that there is a sea of talented designers with the same hope. I can't begin to express how excited I am to be a part of Preserve."
In other news, the Triangle Druzy Studs, along with other designs from the Portland, Oregon based indie jewelry company, are on their way to Beverly Hills, where they will be part of GBK's 2014 Primetime Emmys Celebrity Gift Lounge*, in association with The Artisan Group®. The by-invitation-only Gift Lounge takes place August 22-23 at an exclusive location in Beverly Hills, California.
The Triangle Druzy Studs will be included in The Artisan Group swag bags to be gifted to attendees stopping by the Artisan Group exhibit. Throughout the event, the Artisan Group will showcase on display the company's Gilded Hexagon Druzy Necklace, Finn Necklace and Spearhead Necklace.
The Gilded Hexagon Druzy Necklace features a custom cut, hexagon Druzy Quartz in a gilded gold shade, wrapped in Saressa Designs' signature bezel style. A high quality, plump natural Lapis Lazuli briolette is the focus for the Finn Necklace, which Hughes describes as, "A little tribal and a little surfer." The Spearhead Necklace features a hand-formed pendant in the shape of a spear, forged in 14k gold filled. A high quality Smoky Quartz arrowhead briolette is wrapped and suspended inside, while smoky quartz rondelles create the perfect balance and accent.
All three pieces are perfect for wearing alone or layered. Hughes says, "These pieces reflect my fascination with geometric shapes. All three necklaces are custom cut, colored and drilled gemstone designs, exclusive to Saressa Designs LLC."
To learn more about Saressa Designs, become a fan on Facebook (fb.com/SaressaDesigns) and follow the company on Twitter (@SaressaDesigns).
*This event is not affiliated with the Primetime Emmy show; Saressa Designs is not in any way affiliated with the Academy of Television Arts & Sciences.
ABOUT SARESSA DESIGNS & RACHEL HUGHES
Rachel Hughes has always been a creative thinker and artist at heart. After busy days full of rough-and-tumble with her two sons she sits down to link, wrap and hammer high quality metals and gemstones into modern, feminine works of art. In 2004 she officially launched Saressa Designs (http://www.saressadesigns.com) and today offers a line of beautifully crafted jewelry that combines a minimalist, elegant, rustic and soft statement approach. Rachel lives with her husband and sons in Portland, OR. Her love of butterflies and their uniqueness inspired the name Saressa Designs as the meaning of Saressa is 'butterfly princess'.
Saressa Designs jewelry has been worn on CW Network's "The Vampire Diaries" and gifted at GBK's Luxury Gift Lounges for the 2013 Primetime Emmys and New York Fashion Week.