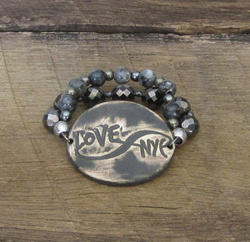 Wear the Infinity Love NYC bracelet with joy and the intention to live life to the fullest!
Mine Hill, New Jersey (PRWEB) September 04, 2014
SassyBelleWares (http://www.sassybellewares.com) is pleased to announce its Infinity Love NYC Bracelet will be included in celebrity swag bags prepared by The Artisan Group® for GBK's Luxury Gift Lounge in Honor of New York Fashion Week. The Lounge takes place September 5-6, 2014 at an exclusive location in New York City.
The New York City inspired bracelet was designed by SassyBelleWares founder Stephanie Hovsepian, who says, "New York City is a city like no other; the vibe is one you must experience firsthand and once you do, you are sure to fall in love and never want to leave!"
The bracelet features a ceramic Infinity Love NYC focal piece in matte black. The focal measures 2 inches x 1-3/4 inches and is surrounded by three bead strands composed of Czech glass, Larvakite, Pyrite and Pewter in shades of hematite and gunmetal. The bracelet measures 7 inches and stretches to fit most wrists.
"My love for New York City is limitless," remarked Stephanie. "I hope those receiving this bracelet share the love and will wear the Infinity bracelet with joy and the intention to live life to the fullest."
Stephanie says that despite being a New Jersey transplant she remains a southern belle at heart. "Southern belles are seriously sassy and I've made it my mission to share and encourage this attitude through my jewelry designs. At SassyBelleWares, we are all about elevating the sass factor with unique, funky, whimsical and sassy handcrafted jewelry and accessories they won't find anywhere else."
SassyBelleWares Sunflower Stretch Bracelet was worn by Deborah Lacey (Madame Van Horn) on the CW Network's "Hart of Dixie." The company has also gifted its jewelry to numerous celebrities, including Megan Fox, Snooki, Jennifer Nettles, Giuliana Rancic, Sarah Michelle Gellar, Selena Gomez and Stephanie Drapeau.
Recently, SassyBelleWares had its stack bracelets selected for inclusion in The Artisan Group swag bags at GBK's Luxury Gift Lounge for the MTV Movie Awards, where they landed in the hands of cast members from "Awkward," "Two Broke Girls," "Justified" and "Nashville," among other shows. SassyBelleWares was also gifted at GBK's Gift Lounge for the 2013 Golden Globes and has helped raise money for The Joyful Child Foundation as part of a The Artisan Group charity initiative.
To learn more about SassyBelleWares, contact Stephanie Hovsepian by email using the Contact button at the top right of this press release. Become a fan on Facebook (SassyBelleWaresonFB) and follow the company on Twitter (@SassyBelleWares). Shop SassyBelleWares at http://www.sassybellewares.com.
For more information about The Artisan Group, visit theartisangroup.org.
ABOUT SASSYBELLEWARES
SassyBelleWares (SassyBelleWares.com) is elevating the SASS FACTOR for women of all ages with jewelry and accessories that blend contemporary materials, semi-precious gemstones and whimsical found elements. The result is original designs that express a variety of moods, and work for all kinds of occasions.
SassyBelleWares jewelry has been worn on CW Network's Hart of Dixie and was showcased on display and included in celebrity swag bags at GBK's Luxury Gift Lounge for the 2014 MTV Movie Awards.
In 2013, the company's Believe Bracelet was gifted to some of Hollywood's hottest moms, including Claire Danes, Jessica Simpson, Shakira, and Kim Kardashian, as part of an exclusive The Artisan Group® gift bag. SassyBelleWares has also been gifted to singer Selena Gomez and actress Stephanie Drapeau.