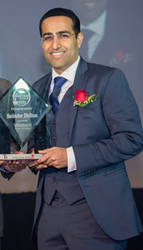 Dhillon was the only non-lawyer who was granted special permission to sit at the advocates table, before the three judges in India's top court, in 2018 and he was planning on travelling to Bangalore for the hearing as well before Covid-19 hit.
ABBOTSFORD, British Columbia (PRWEB) April 21, 2020
On March 14th, 2020, the Karnataka High Court at Bangalore allowed an Intervention Application (IA) seeking a direction to maintain a legal transcripts of court proceedings. The IA was filed in a Public Interest Litigation (PIL) seeking audio-video recording of court hearings (Case No. 50892-2019).
To read more about the case please visit Bar and Bench's litigation news article below:
https://www.barandbench.com/news/litigation/karnataka-hc-allows-intervention-application-for-transcript-of-proceedings-in-pil-seeking-audio-video-recording-at-courts
The IA was filed by Amrish Kilachand, a businessman who resides in Mumbai. The application is virtually identical to the one he filed in the Supreme Court of India in 2018 - which was successful.
To read more about the case from 2018 please visit:
https://www.prweb.com/releases/2018/06/prweb15579559.htm
The only piece of evidence attached to Kilachand's IA in the current case in the Karnataka High Court at Bangalore are transcripts from the well documented case of Canadian activist and businessman, Satinder Dhillon.
Dhillon who is the founder of Global Strategic Solutions is working in conjunction with the International Legal Alliance which was founded by well known Mumbai lawyer, Jamshed Mistry, to bring about change and more transparency to courts around the world. Mistry has been long time lawyer for both Kilachand and Dhillon and assisted in preparing the recent filings, just as he did in 2018. Mistry has also appeared in the Canadian courts on behalf of Dhillon.
Kilachand who attended university in the United States and has a degree in Business Administration said that he believed the Indian courts needed to modernize their processes to come into the 21st century.
"There needs to be more transparency and the citizens of India deserve proper access to justice. Transcription services are a very important addition that is needed in our legal system". These were Kilachand's sentiments about IA.
Dhillon echoed Kilachand's sentiments and added "in today's world how can it be that all court hearings aren't recorded already"?
"We are glad the work we did in Canada is helping the courts in India. That alone has made the hardships worth going through" stated Emmet Pierce - who resides in Canada and assisted Dhillon in his case.
"We hope we are successful in this current case just as we were in 2018 in the Supreme Court of India" stated Mistry.
To read the full story about the recent filing please visit:
https://karnatakainterventionapplication.wordpress.com/
Dhillon's case has become so well known around the world that a movie is being written about it by India's top screenwriter, Mr. Anjum Rajabali.
To read more about the movie please visit:
India's Top Screenwriter Delivers Aamir Khan and Priyanka Chopra's Next Script And Is Going To Write Biopic About Modern Day Revolutionary - Satinder Dhillon Next:
http://www.prweb.com/releases/2017/10/prweb14758274.htm
To read more about Dhillon please visit:
http://www.satinderdhillon.com
http://timesofcanadapresents.blogspot.com/
To read more about Global Strategic Solutions please visit:
http://www.globalstrategicsolutions.international/
To read more about International Legal Alliance please visit:
https://internationallegalalliance.com/
To read more about Jamshed Mistry please visit:
https://www.linkedin.com/in/jamshed-mistry-061a769/?originalSubdomain=in