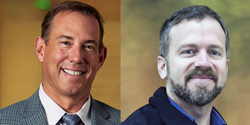 As SavATree grows, it's crucial for us to have the best leadership in place.
BEDFORD HILLS, N.Y. (PRWEB) June 19, 2019
SavATree is proud to announce the appointment of Mike Schoeni and Guy Gunther to the positions of Regional Vice Presidents.
Schoeni is a 30-year veteran of SavATree and joined shortly after graduating from the University of Wisconsin with a B.S. in Forestry and Soil Science. He previously served SavATree as a District Manager, Branch Manager, and ISA certified Arborist. In his new role as Regional Vice President, he will oversee the New England and -Mid-Atlantic regions, focusing on customer service, revenue, and operations.
Gunther comes to SavATree from the communications industry. He has extensive experience with developing new markets, as well as an MBA in Economics and Marketing from the University of Chicago. As Regional Vice President, he will support the West and Mid-West regions, markets that he has lived and worked in for years. Gunther's background and education will contribute to further geographic growth.
Recently, SavATree has seen rapid expansion into new states and territories, thanks to their aggressive growth strategy. Schoeni and Gunther will be instrumental in maintaining this momentum, as well as supporting their existing 35 branches,
"As SavATree grows, it's crucial for us to have the best leadership in place," said Daniel van Starrenburg, CEO of SavATree. "Mike and Guy are exactly the right people to fill these new roles and provide our regions with guidance and support. They're both very talented and committed to driving forward our initiatives around employee engagement, safety, client satisfaction, and sustainability."
About SavATree
SavATree, the green choice for tree, shrub and lawn care, provides environmentally sensible services to residential, commercial, community, and government properties in the Northeast, Southeast, Mid-Atlantic, Midwest, Southwest, and Western regions. Property stewardship programs feature organic and hybrid plant health care, general tree care, and lawn care, all of which are highly customized to meet the needs of each landscape and steward. Services include tree and shrub pruning, insect and disease management, deer deterrence, and lawn care, as well as tree and shrub nutrient programs. Learn more at http://www.savatree.com.