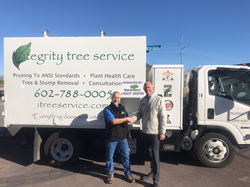 Expanding into Arizona has been a goal of ours for a long time.
BEDFORD HILLS, N.Y. (PRWEB) January 24, 2019
SavATree, an industry leader in tree, shrub, and lawn care, has announced their acquisition of Integrity Tree Service of Phoenix, Arizona. This is SavATree's 34th location and the first in Arizona.
"Expanding into Arizona has been a goal of ours for a long time," said Daniel van Starrenburg, CEO of SavATree. "We just needed the right company to partner with. Integrity Tree Service has an excellent team, with a deep knowledge of the Southwest's landscape conditions and tree care needs. Together, we'll be able to offer clients an even wider range of services to preserve and enhance their trees and shrubs."
Integrity Tree Service was founded in 1989 by John and Kim Eisenhower, offering exceptional customer service, highly-trained crews, and safe worksites. John and Kim Eisenhower along with Integrity's entire team of arborists and field specialists will stay with SavATree following the merger and continue to serve clients and properties in the area.
"Our clients are in great hands with SavATree," said John Eisenhower, owner of Integrity Tree Service. "They have a stellar reputation in the industry, and we're excited to start working together."
About SavATree
SavATree, the green choice for tree, shrub and lawn care, provides environmentally sensible services to residential, commercial, community and government properties in the Northeast, Mid-Atlantic, Southeast, Midwest and Western regions. Property stewardship programs feature organic and hybrid plant health care, general tree care and lawn care—all highly customized to meet the needs of each landscape and steward. Services include tree and shrub pruning, insect and disease management, deer deterrence, and lawn care, as well as tree and shrub nutrient/fertilization programs. Learn more at http://www.savatree.com.