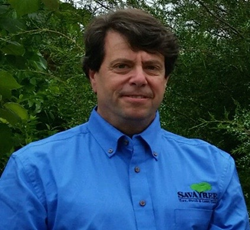 Rubin noted, "I am thrilled at the opportunity to focus my 35+ years of industry and business experience to assist SavATree in expanding our presence in the various sectors of the national commercial accounts market."
BEDFORD HILLS, N.Y. (PRWEB) June 12, 2020
SavATree is pleased to announce that Ron Rubin, ISA Certified Arborist and former owner of Thrive, Plant Health Care Solutions, will now focus on Strategic Accounts to leverage SavATree's national presence.
Ron Rubin joined SavATree in 2017 when SavATree purchased his company Thrive. Ron graduated from University of Wisconsin Stevens Point College of Natural Resources with a Bachelor of Science degree in Forestry. His wealth of knowledge and experience will help SavATree to further expand the company's market share of national accounts.
With over 41 branch operations, SavATree has been rapidly expanding through acquisitions into new markets. This expansion has led to acquiring several national accounts, which has led to even more geographic expansion as we meet the needs of this growing client base. Ron's focus on strategic and national accounts will add more growth momentum to this segment.
Executive Chairman Daniel van Starrenburg commented, "We're pleased to have Ron Rubin aboard and believe it will be a tremendous step forward for SavATree. Ron's lengthy tenure in the industry, contacts and knowledge will further enhance our success with national and strategic accounts."
In his role as Vice President of Strategic Accounts, Ron will work closely with the Commercial Arborists, Branch Managers, District Managers and Regional Vice Presidents to build growth in all regions.
Rubin noted, "I am thrilled at the opportunity to focus my 35+ years of industry and business experience to assist SavATree in expanding our presence in the various sectors of the national commercial accounts market."
About SavATree
SavATree provides environmentally sensible tree, shrub and lawn care to residential and commercial properties throughout the country. Property programs feature organic and hybrid plant health care, lawn care and general tree care—all highly customized to meet the needs of each landscape and steward.