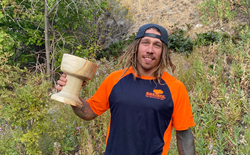 "Winning is an awesome feeling, but it's not everything. The competing is what keeps me, and others, motivated to do our best. Not many sports can pit two people against each other who also exchange advice on what they can do better."
BEDFORD HILLS, N.Y. (PRWEB) October 04, 2020
SavATree's General Tree Care Talent Developer, Ryan Torcicollo, was awarded first place overall at this year's 27th Annual Utah Tree Climbing Championship sponsored by the International Society of Arboriculture (ISA) Utah Chapter, held on September 17-19 in Payson, UT. SavATree's Utah branch also had nine additional climbers participate in this competition.
Torcicollo completed his first competition about ten years ago, but it was not until 2014 that he began seriously competing. What followed was a succession of impressive wins for Torcicollo. In 2015, 2016 and 2017, he was awarded top honors at the ISA Utah Chapter Tree Climbing Competition. In 2016 and 2017, he was awarded second place at the International Tree Climbing Competition's Belayed Speed Climb Event. In 2017, Torcicollo was JAMBO Team Champion, and in 2019 he came in second.
"It isn't really about winning, that's an added bonus. I genuinely love getting together with other climbers and I've rarely left a competition without learning something new or teaching something new to a fellow competitor," says Torcicollo of the camaraderie during the annual event. "Winning is an awesome feeling, but it's not everything. The competing is what keeps me, and others, motivated to do our best. Not many sports can pit two people against each other who also exchange advice on what they can do better."
The ISA Utah Chapter is devoted to improving and promoting safety and professionalism in arboriculture – a continual focus at SavATree – to guarantee properties, people and crews are always protected. Ryan joined SavATree in January of 2020 when his company Wasatch Arborists of Park City, UT was purchased by SavATree. Ryan has since been promoted to lead SavATree's talent development for their tree care teams.
"Ryan has hit the ground running in supporting the training needs of our tree care professionals on a daily basis," says Carmine Schiavone, CEO at SavATree. "But even more important, he is expanding our community by making it easier for hardworking people who love the outdoors to transition to the green industry through his passion for education. Congratulations on your continued accomplishments, Ryan!"
About SavATree
Industry leader SavATree provides environmentally sensible tree, shrub, and lawn care to residential and commercial properties throughout the country. Property programs feature organic and hybrid plant health care, lawn care and general tree care—all highly customized to meet the needs of each landscape and steward. Learn more at http://www.savatree.com.