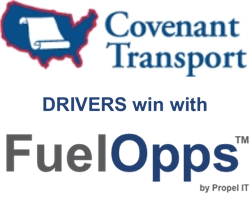 FuelOpps has brought a unique approach that has involved our drivers and they have really connected with it.
Pittsburgh, PA and Chattanooga, TN (PRWEB) November 06, 2013
FuelOpps is a fuel efficiency application compatible with major telematics systems developed for the transportation industry. Driver behavior is known to have a significant impact on fuel consumption. In the past, because of the difficulty of measuring driver behavior, finding those savings has been difficult. FuelOpps, helps fleets capture those savings through proprietary algorithms that measure driver behaviors, not MPG, combined with structured coaching and an integrated reward plan. Covenant Transport, using FuelOpps, is reducing fuel consumption in excess of 3% with high driver satisfaction and improving driver retention.
Read more about how they accomplished this in the case study.
Covenant Transportation Group, Inc. is the holding company for several transportation providers that offer premium transportation services for customers throughout the United States. The consolidated group includes operations from Covenant Transport and Covenant Transport Solutions of Chattanooga, Tennessee; Southern Refrigerated Transport of Texarkana, Arkansas; and Star Transportation of Nashville, Tennessee. In addition, Transport Enterprise Leasing, of Chattanooga, Tennessee is an integral affiliated company.
Propel IT, Inc. is the Pittsburgh, PA based developer of the FuelOpps fuel efficiency application. FuelOpps combines technology to identify efficient behaviors with the human element to help coach drivers to improve.