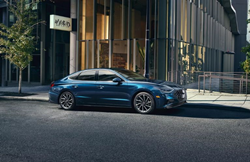 STOCKTON, Calif. (PRWEB) January 05, 2023
Prospective buyers looking for great deals on Hyundai models in Stockton, California, have reason to celebrate. Stockton Hyundai is offering 0% APR for up to 36 months on a range of models as part of its "Hyundai Getaway Sales Event." Customers interested in buying a brand-new Hyundai can take advantage of this offer. These offers are valid until Mar. 1, 2023.
Shoppers can buy the 2023 Hyundai Sonata, 2023 Hyundai Elantra and 2023 Hyundai Santa Fe at 0% APR for up to 36 months and zero payment for 90 days. At 0% APR for 36 months and a $500 cash bonus plus 90 days deferred payment, the compact, practical 2023 Hyundai Tucson is a steal. Interested customers can purchase select 2023 Hyundai Tucson and 2023 Hyundai Santa Fe models at 2.9% APR for 48 months. The 2023 Hyundai Kona and 2023 Kona Electric are also offered at special prices.
To make use of these impressive offers, customers should have approved credit. For qualified buyers with lower credit ratings, higher finance rates will apply. Customers can also get pre-approved for an auto loan before deciding on which vehicle to buy. Stockton Hyundai offers this service and has tie-ups with various financial institutions and banks.
Customers interested in learning more about the "Hyundai Getaway Sales Event" are encouraged to visit the dealership at 2979 Auto Center Cir, Stockton, California, or log on to the dealership's website at https://www.stocktonhyundai.com/. Questions can be directed to 209-662-6400.