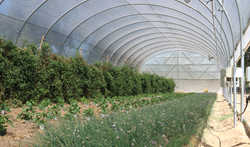 (PRWEB) August 30, 2018
GrowSpan Greenhouse Structures is helping customers celebrate Labor Day by offering free shipping on all non-commercial structures. For the next two weeks customers can potentially save thousands and get a greenhouse structure that is ideal for their business or home.
The Labor Day Sale comes just in time for growers looking to extend their growing season or replace an old structure before the winter months set in. With this sale, growers can get free shipping on GrowSpan's Pro Greenhouses, Premium Greenhouses, High Tunnels, Cold Frames, Hobby Greenhouses and Shade Structures.
For nearly 40 years GrowSpan Greenhouse Structures has been designing and building versatile greenhouse structures for any growing application, including nurseries, fruit and vegetable growing, education and research, cannabis and much more. With custom designs and turnkey options, customers are able to get their ideal greenhouse structure when they need it most.
GrowSpan provides the finest greenhouse structure, and with offerings that range from professional greenhouses to high tunnels and hobby greenhouses, growers of any kind can take advantage of this sale. There's a number of cladding options and many structures can be customized to meet even the most specific growing need or requirement.
With a one-stop shopping experience, growers can get everything they need from GrowSpan. These structures can be outfitted with all the required environmental controls, so growers can easily grow and harvest on a year-round basis.
GrowSpan staffs growing and greenhouse specialists that can offer invaluable advice to pick out the structure that best works for them and outfit it with the required systems and accessories. This combined with in-house financing and installation services makes acquiring the ideal growing structure quick and easy.
To take advantage of this sale, call 800.476.9715. To find out more about GrowSpan Greenhouse Structures, visit http://www.growspan.com