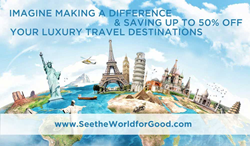 Freedom is Choosing Where You Travel. Rewarding is Never Having to Pay Full-Price Again.
Santa Monica, CA (PRWEB) September 15, 2015
Staffing solution Recruiting for Good, based in Santa Monica, launches high purpose and personal service "See the World for Good" to reward and help 100 Southern California families that make a difference; earn travel discounts to save on luxury family vacations.
Problem: Americans Work Harder, Take Less Vacations, and Hurt Family Life
In America, families are spending less quality time together, damaging family relationships, and straining the work-life balance.
Each year, the cost of travel goes up, families that are saving for kids' college funds, and paying mortgages; forgo taking vacations to save money.
According to a 2014 American Express survey, Americans spend an average of $1,246 per person on summer travel. For a family of four, that's $4,984.
Solution: Reward Family Travel By Making It Affordable and Attractive
Recruiting for Good's purpose in providing a discount travel service is to offset the cost of luxury vacations, and create positive life experiences for families that make a difference. According to Recruiting for Good Founder, Carlos Cymerman, "If families only take 2 weeks of vacation time each year, shouldn't every destination be the best (cruise, hotel, or tour)? Luxury travel gives families an opportunity to enjoy life's best rewards, have extraordinary vacation experiences, and make spending time together unforgettable."
Parents and family members that make a difference by volunteering in nonprofits, schools, or are positive role models; can earn access to Recruiting for Good's exclusive and personal luxury travel savings service.
Carlos Cymerman adds, "Every year, our mission is to reward 100 families and friends access to our service, and help them earn travel savings by making candidate and client referrals. Referrals enable us to make recruiting placements and generate proceeds on their behalf to fund luxury destinations. Our personal travel service is not about the quantity of people we serve, but about the quality of each funded and rewarded travel experience that matters most."
About
Since 1998, Recruiting for Good has been a staffing solution, connecting people to great jobs, helping companies find talented professionals. And now are using recruiting proceeds to reward people who make a difference, access to our high purpose service; helping fund and reward luxury travel savings for good. For more information about using Recruiting for Good, please check out RecruitingforGood.com.