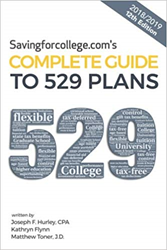 Finally, a book explaining college savings programs in a way we can all understand.
MIAMI (PRWEB) September 07, 2018
Savingforcollege.com, the leading source of unbiased information on ways to save and pay for college, has released an updated edition of the bestselling book, "Savingforcollege.com's Complete Guide to 529 Plans." The 2018-19 edition includes new information on using 529 plans to pay for K-12 tuition, and a new chapter on 529 ABLE plans for individuals with disabilities. With over 100,000 copies of prior editions sold, the book continues to be the ultimate resource for financial professionals who help clients plan for future college expenses.
The book covers specific ways to incorporate college planning into an advisory practice and provides insight on complementary topics such as scholarships and financial aid. The book also answers many common questions related to using 529 plans and other savings vehicles, clearing up confusion about withdrawals, tax planning and managing 529 plan accounts.
Readers will also gain access to the book's exclusive online section, which features tools that help financial advisors recommend a suitable 529 plan based on their clients' individual needs. This includes printable fact sheets that highlight the plans' 5-Cap Ratings, investment options, contribution limits, state tax benefits and more, making it easy to compare different plans side by side. There are also links to tools and calculators that are mentioned throughout the book, including the popular World's Simplest College Cost Calculator.
College is one of the biggest expenses today's families face, and surveys show that parents are increasingly turning to financial advisors for help with college planning. Advisors can provide added value to clients by developing education savings strategies that will help achieve their goals.
"Savingforcollege.com's Complete Guide to 529 Plans" is available to purchase for $29.95 at Amazon.com. Discounted rates are available for bulk purchase. Contact marie@savingforcollege.com for more information.
About Savingforcollege.com:
Savingforcollege.com has been a leading independent authority on 529 savings plans since 1999. Their site compiles and analyzes data, and creates content and tools to provide parents, financial professionals and state agencies with resources to help them understand how to meet the challenge of increasing education costs.