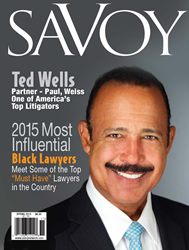 This is the definitive and most comprehensive list of Black lawyers compiled within the last five years and we're proud to share their impact with Savoy's readers. - LP Green, II, Publisher of Savoy
Atlanta, GA (PRWEB) March 09, 2015
With the release of their Spring Issue, Savoy announces their 2015 Most Influential Black Lawyers featured list. The listing is comprised of the "best of the best" of Black lawyers that are partners within leading national law firms and also corporate counsel from Fortune 1000 corporations. The full listing can be viewed online by clicking here. As diversity and inclusion for legal professionals continues to grow, Savoy's listing of "top lawyers" emerges with an influential cross section of legal professionals representing a diverse range of expertise with national and global responsibilities.
"Savoy is proud to be at the vanguard of recognizing excellence and success within private industry and corporate professionals," said L.P. Green, II, Publisher, Savoy Magazine. "Recognizing the Most Influential Black Lawyers is a natural extension of our ongoing coverage of influencers and achievers that began with the creation of the Most Influential Black Executives and Most Influential Black Women listings. We remain committed to recognizing and exposing the world to the full spectrum of excellence within the African American community."
The expansive new issue of Savoy features a cover story on Theodore "Ted" V. Wells, Jr., Partner and Co-Chair of Litigation, Paul, Weiss, Rifkind, Wharton & Garrison, LLP. Wells is a globally respected lawyer and was named one of "The Decade's Most Influential Lawyers" by the National Law Journal. Wells is also leading the NFL's "Deflate Gate" investigation regarding under inflated game balls provided during the playoffs for the Super Bowl Champion New England Patriots.
Savoy focuses this issue on the top lawyers, showcasing visionaries, leaders and advocates – including partners and counsel – within the legal profession who are widely recognized for their professionalism, protection of rights and community service. The latest issue of Savoy features profiles and coverage of:

Dennis Archer, First African American President of the American Bar Association and former Mayor of Detroit
Paulette Brown, President Elect of the American Bar Association, First African American Woman elected to this position, Partner, Locke Lord Edwards LLP
Robert Grey, President, Leadership Council on Legal Diversity
Laurie N. Robinson Haden, Founder and CEO of Corporate Counsel Women of Color
Kamala D. Harris, 32nd Attorney General of the State of California
Eric Holder, United States Attorney General
Sherrilyn Ifill, President & Director, NAACP Legal Defense & Education Fund, Inc.
Loretta Lynch, United States Attorney General Nominee
Pamela J. Meanes, President, National Bar Association
Charles Ogletree, Jr., Jesse Climenko Professor of Law, Harvard Law School
Rick Palmore, Former General Counsel of General Mills and his work to expand diversity in the legal profession
"Savoy is proud to congratulate those recognized within the 2015 Most Influential Black Lawyers listing. We salute their achievement and leadership working at the highest levels within firms of influence and global corporations," added Green. This is the definitive and most comprehensive list of Black lawyers compiled within the last five years and we're proud to share their impact with our readers."
About Savoy
Savoy Magazine is a national publication covering the power, substance and style of African American lifestyle. From entertainment to sports, business to politics, design to style, Savoy is a cultural catalyst for the African-American community that showcases and drives positive dialogue on and about Black culture. Savoy is published quarterly and distributed via subscriptions and newsstands worldwide. Look for the new Savoy app available for iOS and Android devices March 27, 2015.
For media inquiries please contact:
Catrina L. Young
Chief Communications Officer
Phone: 404 -841-7019/Fax: 404 841-7919