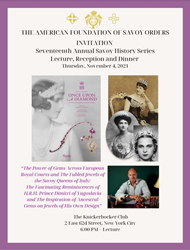 "The Power of Gems Across European Royal Courts and The Fabled Jewels of the Savoy Queens of Italy: The Fascinating Reminiscences of H.R.H. Prince Dimitri of Yugoslavia and The Inspiration of Ancestral Gems on Jewels of His Own Design."
NEW YORK (PRWEB) October 26, 2021
The Savoy Foundation's 17th Savoy History Series returns on November 4, 2021 with a fascinating presentation by HRH Prince Dimitri of Yugoslavia about the jewels worn by Prince Dimitri's ancestors, and the ones he has designed himself inspired by his family's unparalleled jewelry as illustrated in his book, recently published by Rizzoli - "Once Upon a Diamond - A Family Tradition of Royal Jewels." The presentation's main title is: "The Power of Gems Across European Royal Courts and The Fabled Jewels of the Savoy Queens of Italy: The Fascinating Reminiscences of H.R.H. Prince Dimitri of Yugoslavia and The Inspiration of Ancestral Gems on Jewels of His Own Design."
Captivated by his mother's and grandmother's jewelry and those seen in jewelers' windows growing up, Prince Dimitri pursued a career in auction houses and fine jewelry, opening his namesake house Prince Dimitri (https://www.princedimitri.com/) in New York in 2007. He will recount the genealogy of his family, untold stories of enthralling exploits and informal familial moments, the magnitude of its breathtaking jewelry collected by generations of monarchs and other titled relatives, particularly of the three Savoy Queens of Italy, as well as how these gems provided inspiration to create and establish his own jewelry company and his own often bespoke creations. Caroline Weber, author, fashion historian and a scholar of French literature, history and culture is the moderator.
Prince Dimitri's ancestors played pivotal roles through centuries of social, political, economic and cultural change. The most notable were Catherine the Great, the Medicis, Empress Maria Teresa of Austria, Emperor Charles V, Louis XIV, Charlemagne, William the Conqueror, Mary, Queen of Scots, King Victor Emmanuel of Italy and King Albert and Queen Elizabeth of Belgium. His book published by Rizzoli provides Prince Dimitri the opportunity to present his research on the provenance of these rare treasures, illustrating his family's love for jewelry amassed over generations by monarchs of European royal courts (Italy, Greece, Belgium, Russia, and Yugoslavia.) It is a collection that spans centuries, and styles, all set against the dramatic backdrop of history, a vast view of world-changing events, and political and personal triumphs and tragedies. Exceptionally fine gems, superbly crafted by masters of jewelry, have always been an essential part of the majesty of monarchy as symbols of power, courtly splendor and authority. At the same time, they are intimate and intensely personal expressions of family milestones, birthdays, births and marriages and closely connected to specific individuals. The presentation will treat us to photographs of jewels worn by all of these royal women and many more of Prince Dimitri's royal relatives — including his mother, Princess Maria Pia of Savoy, who is still alive today.
A segment of the talk focuses on the jewelry collection on the three Savoy Queens of Italy - Margherita, Elena and Marie-José of Italy; another segment on the Russian Imperial jewels of Grand Duchess Vladimir of Russia and Empress Carlotta of Mexico. Intimate anecdotes about the gems and the haute joaillerie that these families collected and commissioned during their reigns, as well as their provenance, is not to be missed. Seeing an image of a tiara on its own and then seeing it sitting atop a royal head offers a captivating insight into the extraordinary beauty and design of the artifacts.
Prince Dimitri's talk will be in the form of an informal interview moderated by Caroline Weber, who is an author, fashion historian and a scholar of French literature, history, and culture. Since 2005 she has been a professor of French and Comparative Literature at Barnard College, Columbia University. She has also taught at the University of Pennsylvania and Princeton. Weber's first two books, Terror and Its Discontents (2003) and Queen of Fashion: What Marie Antoinette Wore to the Revolution (2006), analyzed the complex politics of revolutionary France. Proust' Duchess: How Three Celebrated Women Captured the Imagination of Fin-de-Siècle Paris (2018), won the French Heritage Society Book Award and was a finalist for the Pulitzer Prize.
To purchase tickets to the Savoy History Series presentation on November 4, 2021, please click here
ABOUT THE AMERICAN FOUNDATION AND THE AMERICAN DELEGATION OF SAVOY ORDERS
The Savoy Foundation sponsors the Savoy History Series, an annual presentation given by distinguished scholars and masters in their respective fields and sometimes by members of the Italian Royal Family on a topic related to the House of Savoy, and the history of Italy, Italian literature, history, art, music, science and impact on other countries. A wide array of extraordinary lectures and dynamic conversations featuring topics in Italian history and highlights from current exhibitions, film discussion and musical performances related to Italy and the Savoy dynasty provide interesting insights from a unique perspective. Savoy History Series is a program of the Savoy Foundation
Headquartered in New York City, the American Delegation of Savoy Orders, which includes all 50 of the United States of America, is among the 35 delegations of the Savoy Orders located throughout Europe, the Americas and Japan.
The American Foundation of Savoy Orders, Incorporated a tax-exempt 501 (c) (3) charitable organization, has supported local, national, and international charities focusing on medical, educational, and humanitarian fields, including philanthropy for U.S. veterans, hospitals and relief agencies for children, the poor, sick and elderly. The Foundation is a Non-Governmental Organization in Roster Consultative Statues with the Economic and Social Council of the United Nations. In 2019, the Savoy Foundation launched a new charitable initiative - Chivalry for Children's Causes - a multi-year program assisting institutions and charitable organizations that provide aid to children and families in need.