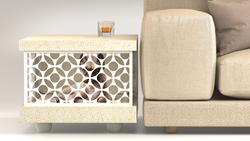 Toxic items in homes caused over 100,000 dog vet visits in the US in 2018 that averaged over $1,000 each.
PORTLAND, Ore. (PRWEB) November 11, 2020
Savvy puppy owners have new reasons to celebrate this holiday season. They'll be first to have fine furniture for their furry babes that is intelligently designed to calm and support their lives together over the long term.
An early step for new puppy owners is to figure out how to keep it safe and NOT spend the next 15 years tripping over dog beds and toys.
What do you do?
Los Angeles designers took that question seriously and created the only fine furniture collection in the world with full animal lifecycle support - the EQO Collection. The studio, MOMANT®, also backs the pieces with owner lifecycle services for when their usefulness ends.
The team studied both canine and modern living needs, then honed in on basics - clean, smart, simple, with better sleep.
"Dogs can die from lack of sleep before a lack of food or water," says Rosalind Marinou, MOMANT's founder. "That's why we have photos of emaciated animals."
Designed by a Yale architect, the EQO Collection comprises credenzas, benches, ottomans, tables and daybeds in mid-century designs that satisfy dogs' primary drives so they settle and sleep well - while humans carry on.
"Puppies need 18 hours of sleep a day, so you only need to manage six active hours. Start with good sleeping habits and an awake schedule and you'll have a healthy, balanced animal and lifestyle," she says.
MOMANT employs two proprietary algorithms to find the perfect fit for pets. Its pieces are differently dimensioned than standard pet options. One algorithm recommends the most supportive pet bed and a second suggests the best furniture enclosures from pet data captured online. While not fully automated yet, the company returns best options via email quickly.
Dogs need less sleep in mid-life, then more again as they age (when they're healthy). After five years, Marinou's 11-year old Standard Poodle spends 50% more time in her credenza where she also keeps her treasures. "She's happy and it creates a much tidier life," Marinou adds.
"The furniture enclosure adds a sense of safety without losing connection," she says. "The dogs can see out perfectly from behind the carved camouflage."
"Simply slide the doors closed when pups are unattended to keep them safe from dangers at home. They're comfortable." Toxins at home caused over 100,000 vet visits at an average cost of $1,000+ each in 2018, according to the ASPCA.
MOMANT is also serious about sustainability. The collection is built without deforestation, metals or toxins. It carries rare FSC® Chain of Custody certification, tracing woods from forest to customers' doors. Each piece is personalized, custom built and arrives with a dossier of its story, certifications and impacts. Customers curate every piece's story.
See more at http://www.momant.com.