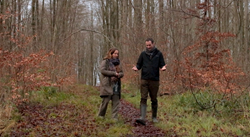 During COP26 we've shared 12 ideas to help Britain's forests grow
WILTSHIRE, England (PRWEB) November 12, 2021
Although they come from very different perspectives, Tom and Charly are both committed to protecting British woodland. Tom is a 4th generation owner of Vastern Timber, sawmills specialising in British grown wood, and he hopes his grandchildren's generation can continue in the family business. Charly is a Somerset based forest school leader and film-maker at 'Pocketful of Acorns,' who runs community tree planting events.
Concerned about the future of Britain's forests, Tom and Charly interviewed experts working with woods, trees, and timber. They asked about their hopes and fears for Britain's forests, and how the trees we're planting today will cope with the warming environments of the future.
Their series of short films "Wood for the Trees" includes voices from chartered foresters, campaigners, authors Gabriel Hemery and Chris Smaje, and leading professionals from Rewilding Britain, the Future Trees Trust, Tree Sisters, Timber Strategies and Grown In Britain.
Each guest was asked for one policy suggestion to help UK woodlands. During the 12 days of COP26 Tom and Charly are sharing these 12 suggestions, available at youtu.be/RX-LHyo_gJ4
12 Ideas to Help Britain's Forests Grow
1. Create a coherent plan to support nature across government
2. Bring agriculture and forestry together into one ecological unit
3. Deliver funding to turn policy into practice
4. Value productive woodlands in creating good quality timber
5. Grown in Britain policy for all timber used in public buildings
6. Funding for 19% canopy cover by 2050
7. Control grey squirrel numbers to protect young trees
8. Implement a carbon tax to incentivise local production
9. Always plant improved trees when planting trees for timber
10. All school age children to have access to forest school
11. Prioritise woodland restoration over tree planting
12. All funded tree planting to be accompanied by a long term management plan
The series was made between 2019 and 2021 and the team would like to thank all guests for taking part. 'Wood for the Trees' has over 25,000 views on Youtube. Series two is being planned for next year, and promises to bring even more to this important conversation.
Find out more and watch the series at https://woodforthetrees.uk/