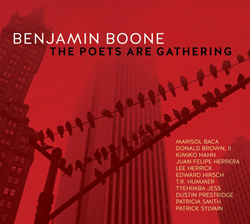 I was moved by [Juan Felipe Herrera]'s empowering message that everybody is a poet, everyone's voice is important and deserves to be heard. So when we decided to do this album, we naturally wanted to address issues of equality, empowerment, and action.
RICHMOND, Calif. (PRWEB) September 28, 2020
Benjamin Boone takes his fascination with the merger of poetry and jazz to stunning new heights on "The Poets Are Gathering," set for an October 16 release on Origin Records. True to its title, the album finds the saxophonist-composer assembling a large group of acclaimed American poets—11 in all, including Tyehimba Jess (Pulitzer Prize), Patricia Smith (LA Times Book Award/National Slam Poetry Champion), Juan Felipe Herrera (U.S. Poet Laureate), and Edward Hirsch (MacArthur)—intertwining their work with that of 20 musicians, including pianist Kenny Werner, guitarist Ben Monder, bassist Corcoran Holt, and drummer Ari Hoenig.
The poetry addresses ripped-from-the-front-page topics such as police murder, racism, immigration, poverty, inequity, and mass shootings. As Gene Seymour writes in his extensive liner notes, "There are incantations and supplications to be found here. Also: elegies and headlines, howls and mantras, reveries and outbursts. They instruct and affirm."
Boone has already made waves in the jazz and literary worlds with his poetic experiments, specifically with his widely acclaimed 2018/2019 two-part collaboration with the late U.S. Poet Laureate/Pulitzer Prize recipient Philip Levine, "The Poetry of Jazz," voted #3 "Best Album of 2018" in DownBeat's 83rd Annual Readers Poll. A colleague of Levine's and Boone's, Juan Felipe Herrera, inspired the current gathering.
"Juan and I set three of his poems to music for his culminating U.S. Poet Laureate event at the Library of Congress in 2017, and I was moved by his empowering message that everybody is a poet, everyone has something valuable to offer, everyone's voice is important and deserves to be heard," says the saxophonist. "So when we decided to do this album, we naturally wanted to address issues of equality, empowerment, and action."
And that they did. The album's diverse voices offer perspectives on the world that is the United States in 2020. The social, cultural, political, and emotional turmoil of the moment is a recurring theme. In "Against Silence," Tyehimba Jess offers a panorama of American violence and its toll, speaking against indiscriminate and unjust murder, both by police officers and drones, while Patricia Smith's "That's My Son There" condenses that panorama, providing a raw, intimate examination of the horrific and needless pain caused by these murders. Haitian American poet Patrick Sylvain twice meditates on immigration, portraying both the fraught journey and arrival ("Marooning") and what it leaves behind ("Ports of Sorrow"). However, there is also room for less overtly political expression, whether in T.R. Hummer's "The Sun One (Homage to Sun Ra)," Edward Hirsch's nostalgic reflection "Branch Library," or Marisol Baca's cosmic abstraction "Spiral."
Prominent as the poets are, it is the musicians on "The Poets are Gathering" that astutely amplify the messages. "Poem by Poem," Herrera's moving elegy for the Charleston church shooting victims, gains dimension and resonance through Craig VonBerg's tender piano. Another luminous pianist, Kenny Werner, joins with Boone's soprano to set "Marooning's" mood of hardship and (dashed) hope. Guitarists Ben Monder and Eyal Maoz evoke an altered-reality soundscape on T.R. Hummer's "The Sun One (Homage for Sun Run)," while bassist Corcoran Holt and drummer Ari Hoenig amplify Jess's message on "Against Silence." Rapper Donald Brown II wears "Black Man's" combination of pathos and righteous anger on his sleeve, but it's Boone, violinist Stefan Poetzsch, and the keyboards of Alberto Díaz Castillo and Donald Brown (the rapper's father) that bring them to life. The elder Brown, a revered pianist-composer in his own right, produced this album as well as the "Poetry of Jazz" volumes.
Even so, it is the scribes who lend the project its artistic identity. "I am touched by the issues these poets so eloquently address. Their messages are profound. They call us to action and to work for a better, more just world," says Boone.
Benjamin Boone has garnered 18 national/international awards and honors for his music, which appears on 28 albums and has been featured on several National Public Radio broadcasts. Born in Statesville, NC, he has been a longtime professor at California State University, Fresno after stints in Boston, Knoxville, and New York.
His March 2020 Origin Records release, "Joy," recorded with The Ghana Jazz Collective while he was a U.S. Fulbright Scholar to Ghana during 2017-18, won critical acclaim for its fresh exploration of the confluence of African and American jazz traditions.
"'Joy' was released at the beginning of the pandemic, and we had to cancel the release concerts," says Boone. "We considered waiting to release this project, so that we could actually do a tour this time, but we have an imperative to engage the moment and deliver our reactions with as much timeliness and honesty as possible, in spite of the pandemic. The message of these poets is too important, critical, and relevant to current events to wait."