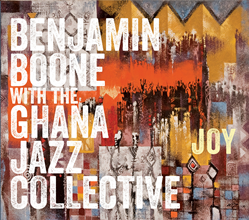 [While in Ghana] I saw firsthand the power of music as diplomacy. I hope 'Joy' shines a positive light on Ghana, its historic connection to the U.S., and to the tremendous jazz musicians there.
RICHMOND, Calif. (PRWEB) January 09, 2020
Saxophonist-composer Benjamin Boone's "The Poetry of Jazz," a visionary collaboration with U.S. Poet Laureate Philip Levine, was praised in leading musical and literary publications, featured on NPR's All Things Considered, and voted the #3 Best Album of 2018 in DownBeat's 83rd annual Readers Poll. Boone documents an equally compelling collaboration, this time from his year as a U.S. Fulbright Scholar in Ghana, on his newest project "Joy," set for a March 20th release on Origin Records.
This album, the fifth under his own name, places Boone alongside an Accra-based cohort of Ghanaian jazz musicians known as the Ghana Jazz Collective. Tenor saxophonist Bernard Ayisa, pianist Victor Dey Jr., bassist Bright Osei, and drummer Frank Kissi join Boone (with further assistance on some tracks from vocalist Sandra Huson) on four of his originals, a reimagining of the classic "Maiden Voyage," and intriguing covers of two lesser-known jazz compositions.
Though created in a country some five thousand miles away, Joy is not out of the realm of a traditional jazz album. The polyrhythms that underpin the music are West African in origin, but nonetheless recognizable to fans of funk, R&B, and postmodern jazz. Nobody was more surprised than Boone, who had come to Ghana to study its musical traditions, when he was invited to sit in with the band at Accra's +233 Jazz Bar & Grill. "I was expecting to hear something like Ethiojazz or Hugh Masekela," he recalls, "but these guys know American jazz inside and out, and play the heck out of it—but with a definite Ghanaian twist."
More to the point, all of the musicians speak the international language of groove. It's as potent on Boone's slithery head-bobber "The 233 Jazz Bar" as it is on his aggressive, shapeshifting "The Intricacies of Alice," or his Hiromi Uehara-inspired "Slam," or his punchy arrangement (with Dey) of Herbie Hancock's "Maiden Voyage." Even the longing ballad "Without You," a feature for Huson, offers the entrancing and danceable beat of an R&B slow jam. "Music and dance are inseparable in Ghana," says Boone. "In traditional music, if you don't know the dance, it is almost impossible to play the music. The grooves are incredibly tight."
Nevertheless, distinctly African influences do make themselves known. For example, while the title track "Joy" was written by the late American saxophonist/flutist Gerry Niewood, Boone and Dey's arrangement addresses the melody with West African cadences and emphasizes the interlocking rhythms within its basic waltz pulse. With "Curtain of Light," the band reaches across the continent toward the Ethiopian musical context of composer Jonovan Cooper (who teaches jazz at Addis Ababa University, where Boone was also in residence). Based on an ancient Ethiopian mode, "Curtain of Light" reaches several almost religiously ecstatic climaxes.
Where the spirit of Ghana truly manifests, however, is in the camaraderie of its musicians and the palpable joy that fulfills the promise of the album's title. "In Ghana, music is participatory, egoless, and woven into the very fabric of existence," says Boone. "People live with joy and make music with joy."
Boone has garnered 18 national/international awards and honors for his music, which appears on 28 albums and has been performed in 36 countries at venues such as Carnegie Hall and the Kennedy Center. As a Professor at California State University Fresno, he has won the campus's highest awards for teaching, service, and creative activity. In addition to serving as a U.S. Fulbright Scholar to Ghana, Boone served as a U.S. Fulbright Senior Specialist to the Republic of Moldova in 2005.
The U.S. Fulbright program seeks to build bridges to peoples across the globe. Taking this role seriously, Boone instigated the "First Annual Ghana National Jazz Workshop Tour," where he and the Ghana Jazz Collective performed and led workshops on improvisation and how jazz is an embodiment of the historic link between the peoples of the U.S. and Ghana. "I saw firsthand the power of music as diplomacy," says Boone. "I hope 'Joy' shines a positive light on Ghana, its historic connection to the U.S., and to the tremendous jazz musicians there. Ghanaians have a love of life, a love of peace, and a culture of welcoming. What a joyous way to live and to make music."