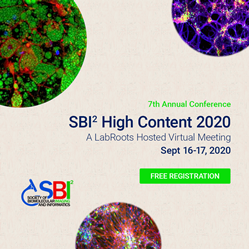 RESEARCH TRIANGLE PARK, N.C. (PRWEB) September 10, 2020
The Society of Biomolecular Imaging and Informatics SBI² is excited to announce that their 7th annual High Content meeting is being held on September 16-17, 2020, as a virtual conference on the LabRoots scientific virtual platform.
Over two days, the packed interactive program will be split into four scheduled scientific sessions, including live Q&A, as follows:

Assay development and high content screening case histories.
High content imaging applications to tissue engineering.
High content imaging innovations.
Maximizing the value of your imaging data.
Keynote speakers at the event will be Lina Nilsson Ph.D., Vice President of Product, Overseeing Data Science, Engineering and Innovation Biology Initiatives at Recursion ("Putting Machine Learning Models into Large Scale Production for Drug Discovery"), and Scott Fraser Ph.D., Provost Professor of Biology & Bioengineering, Elizabeth Garrett Professor of Convergent Biosciences, Director of Science Initiatives, University of Southern California ("Adding Dimensions to Intravital Imaging").
There will be a Live Zoom roundtable session each day, 3:00pm–6:00pm EDT, with up to 500 participants, for networking and sharing ideas on pre-selected scientific topics with peers from around the world, as well as the virtual Exhibit and Poster halls, to meet with featured companies and individuals with the latest on their products, services, and research, which will be open both days between 9:00am–6:00pm EDT and accessible for 1 year.
This is SBI²'s first virtual conference, prioritizing interpersonal communications, high quality scientific presentations, and educational experiences with the aim of fostering awareness of up-to-date techniques and the rapidly expanding strategies in imaging and informatics.
Produced on LabRoots' robust platform, connecting across all desktop and mobile devices, the interactive experience includes an auditorium featuring the live scientific sessions, the exhibit hall, poster hall, and zoom meeting room. To view the complete 2-day agenda, and to register for free, click here.
About SBI²
The Society of Biomolecular Imaging and Informatics (SBI²) is an international community of leaders, scientists, and students promoting technological advancement, discovery, and education to quantitatively interrogate biological models to provide high context information at the cellular level.
About LabRoots
LabRoots is the leading scientific social networking website, as well as a primary source for scientific trending news, premier educational virtual events/webinars and more. Contributing to the advancement of science through content-sharing capabilities, LabRoots is a powerful advocate in amplifying global networks and communities. Founded in 2008, LabRoots emphasizes digital innovation in scientific collaboration and learning. Offering articles and webcasts that go beyond the mundane and explore the latest discoveries in the world of science, LabRoots users can stay atop their field by gaining Continuing Education Credits from a wide range of topics through their participation in the webinars and virtual events.