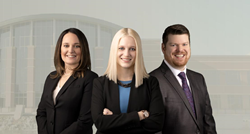 Sullivan, a seasoned attorney in his 10th year of practice, commented: "Reese, Michelle, and I all have strong ties to Downers Grove and Naperville. We are proud to establish our law firm here and to support the legal needs of the citizens in these great communities."
DOWNERS GROVE, Ill. (PRWEB) April 16, 2020
Attorney Sean P. Sullivan provides exceptional legal counsel in the practice areas of Family Law and Business Law. Sean began his law career by working as a law clerk at a Chicago personal injury law firm, gaining invaluable experience in litigation for large civil cases and class action lawsuits. After earning his undergraduate degree from the University of Iowa, Sean received his Juris Doctorate degree from Western Michigan University Thomas M. Cooley Law School.
While attending law school, Sean completed an internship with the Cook County Public Defender's Office, where he worked on the well-renowned Homicide Task Force. He also worked in the General Counsel's Office for the Illinois Department of Financial and Professional Regulation in addition to a general practice firm in DuPage County before joining SBK Law Group. Sean is a member of the Illinois State Bar Association, in addition to the Northern and Central Districts of Illinois: US District Court Bar Associations.
Attorney Reese Krajniak began her career as a solo practitioner by opening her own firm in 2010 in Chicago. In 2016, she started Krajniak Law Group, and in 2020, she joined Michelle and Sean to form SBK Law Group. She focuses her practice on Estate Planning, Family Law, Immigration, and Tax Preparation. Reese earned her undergraduate degree from Marquette University and her Juris Doctorate degree from Florida Coastal School of Law (FCSL), graduating early in just over two years.
Active in the local community, Reese serves on the Board of Directors for Chamber630 for DuPage County, where she was recognized as the Young Professional of the Year in 2018. Reese is a member of the Florida and the Illinois State Bar Associations, plus the Northern District of Illinois, US District Court Bar Association. She is also the Practice Manager for The Krajniak Group, her husband's financial planning business.
Attorney Michelle Bugajsky concentrates her practice on Probate, Estate Planning, and Family Law. She obtained her undergraduate degree from the University of Illinois at Chicago, double majoring in Political Science and Criminal Justice. She earned her Juris Doctorate degree from the Illinois Institute of Technology, Chicago-Kent School of Law.
During law school, Michelle completed a judicial externship in the domestic relations division of the Circuit Court of Cook County. Prior to being a founding member of SBK Law Group, Michelle gained extensive experience through her work as Senior Associate and part of the management team at a DuPage County general practice firm. She is a member of the DuPage County Bar Associations and the Illinois State Bar Association.
Sullivan, a seasoned attorney in his 10th year of practice, commented: "On behalf of SBK Law Group, I am thrilled and honored to provide high-quality legal services to the residents of DuPage County. We are committed to representing our clients with compassion and integrity during what are often the most difficult periods in their lives. Our accomplished team will dedicate our vast knowledge, experience, and resources to securing the best possible outcomes in a variety of cases. Reese, Michelle, and I all have strong ties to Downers Grove and Naperville. We are proud to establish our law firm here and to support the legal needs of the citizens in these great communities."
About SBK Law Group
The skilled attorneys of SBK Law Group have more than 25 years of combined legal experience. They are committed to representing clients in an array of legal matters. Their distinguished team is prepared to resolve family law, guardianships, probate and trust, business law, estate planning, or immigration issues while protecting their clients' best interests. Michelle, Sean, and Reese serve DuPage County, Will County, Kane County, Cook County, and Kendall County.
To learn more about SBK Law Group, visit https://www.sbklawgroup.com/ or call 630-427-4407 for a free consultation.