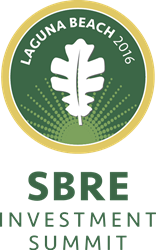 Although the 2016 SBRE Summit in Laguna Beach is sold out, the livestream is expected to enable more investors to be able to get a sense of the event and its purpose, as well as be able to indicate interest in any opportunities they find appealing.
Portland, OR (PRWEB) May 11, 2016
Fairway America, LLC, the leader in the small balance real estate industry, is hosting its flagship event, the Small Balance Real Estate Investment Summit, next week in Laguna Beach CA. The event, the fourth in Fairway's series, has sold out but is being made available on a livestream on the internet.
"Demand for the event has grown exponentially from both of the SBRE community's constituencies – SBRE entrepreneurs and investors," said Fairway CEO Matthew Burk, "because they have discovered the genuine value that the event provides to each." The event is designed to gather members of the SBRE community – entrepreneurs, syndicators and fund managers on the one side and high net worth investors on the other – for mutual learning, engagement and benefit. Education, authenticity and engagement are the main themes at the SBRE Summit. "The demand has allowed us to completely fill the presentation, general admission and investor slots, but it has meant we have had to turn people away, which we hate to have to do."
Fairway is providing a livestream of the entire two days (May 19 – 20) of content on the internet to accredited investors. "The first day is focused on education and training for the high net worth investors," said Burk. Web access will be available for each of the three learning sessions on Thursday – the SBRE vision, due diligence training, and an investor "war stories" panel. "We want to try to help investors better understand how SBRE alternative investments work before they see and hear presentations from the fund managers on the following day."
Presenting companies from around the country include: Alturas Capital, Worcester Investments, Voyager Pacific Capital, Colonial Capital Management, Habitribe, Noble Capital, Inspired Healthcare Capital, SE Texas Capital Advisors, Silverado Management Group, Newquest Management Group, Elevate Private Capital, 212 Asset Management, Christina Development Corp., Trueline Capital, Pacer Partners, Capital 8 Group, and more.
On Friday, each presenter will have 20 minutes to share information about themselves, their strategy, their background, and their investment opportunity. Investors both live at the event and those watching on the internet stream will be able to electronically indicate their desire to obtain more information about specific opportunities if and only if they are interested in learning more. Fairway will capture the contact information and pass it through to the appropriate SBRE entrepreneurs, who can follow up directly with the investors who express interest. Information about most of the presenting companies will also be made available to accredited investors online at SBREfunds.com.
"We are very excited about the lineup of presenting companies," said Burk. "We have an excellent assortment of strategies including mortgage pool funds, apartment syndications, value-add office and healthcare funds, single family development and rehab, and more, from all around the United States. The sheer variety of sponsors, strategies, approaches and expertise is one of the things I love the most about investing in small balance real estate. There really is something for everyone in the SBRE field, but it is very important for investors to learn how to assess opportunities. Bringing these two deserving parties – SBRE entrepreneurs and high net worth investors – together directly and cutting out the middlemen who charge exorbitant fees is at the core of our mission."
Although the 2016 SBRE Summit in Laguna Beach is now completely sold out, the livestream is expected to enable many more investors to be able to get a sense of the event and its purpose, as well as be able to indicate interest in any opportunities they find appealing, in the privacy of their own home. Investors who would like to participate can confirm that they are accredited and obtain access information at: https://sbrefunds.com/2016-livestream-summit-coupon/ In addition, the 2017 event, which will be held at the beautiful Fairmount Grand Del Mar in San Diego on April 27 – 29, is now open for applications to attend, which are available at https://sbrefunds.com/event/sbre-investment-summit-april-2017/. The SBRE Investment Summit is an invitation only event designed for both accredited investors and qualified SBRE entrepreneurs who are serious about a commitment to excellence in the space.
For Future Sponsorship Inquiries | Media Contact: MC Rydzewski, SBREfunds | Fairway America pr@fairwayamerica.com
For Future Summit Presenter Opportunities: Parties interested in being considered for presenting an investment opportunity at the 2017 Summit should submit an "Application to Present": https://sbrefunds.com/events/present-your-sbre-investment-opportunity/
About Fairway America
Fairway America, LLC is a longtime real estate asset based fund manager and real estate finance advisory firm providing strategic business planning services nationwide to SBRE entrepreneurs around the structure, architecture, and administration of proprietary 506 Regulation D pooled investment funds. Fairway's related entities manage two proprietary funds, Fairway America Fund VI, LLC, and Fairway America Fund VII LP, each focused on the SBRE space with different asset allocations and investment features. Both funds consider investments nationwide.
About SBREfunds.com
SBREfunds.com is an online education, information and match-making site that exclusively lists small balance real estate investment opportunities for accredited investors. Created by Fairway America, SBREfunds.com provides entrepreneurs and investors with education and connectivity to better capitalize and grow an SBRE enterprise. From connection with investors to strategic capital raising plans to live events, SBREfunds.com is the definitive resource for SBRE entrepreneurs and accredited investors to understand how to successfully work with one another for mutual benefit and growth.
Follow us on Twitter at @sbrefunds , @fairwayamerica, and @sbreguru, and http://www.facebook.com/sbrefunds.
Neither Fairway America nor SBREfunds.com is a registered broker-dealer or investment advisor. None of the Fairway companies perform any activities of a broker or investment adviser, including but not limited to, soliciting investors, providing investment advice, negotiating securities transactions or the terms, conditions or provisions of any offering, or recommending the purchase of securities. This press release does not constitute an offer or solicitation to sell securities in any of the companies mentioned, any funds presenting at SBRE Summit events, or any related or associated companies. Investors must not rely on information provided in this press release for investment decisions.