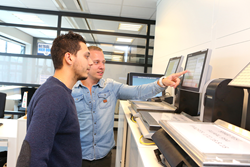 ... the METTLER TOLEDO software enables data from each scale to be exchanged immediately via a single, central server.
(PRWEB) August 07, 2017
Spar runs around 320 small and medium-sized supermarkets in the Netherlands. Recently, the grocery retailer decided to fully centralize its price, item and data management and migrated into a cloud-based solution. All local servers were removed and all existing weighing scales were updated to METTLER TOLEDO UC Evo Line networked scales. As part of this project, Spar also decided to reorganize its scale management activities. METTLER TOLEDO, as a long-standing partner of the grocery retailer, added a software solution to the project, the METTLER TOLEDO RetailSuite (MTRS), which was perfectly aligned with Spar's new centralization process.
"The solution sounded interesting to us right from the start," recalls Paul Willems, Manager Store Support at Spar Netherlands, "because the METTLER TOLEDO software enables data from each scale to be exchanged immediately via a single, central server."
With MTRS, data management for all scales now takes place via the DistributionServer, which is located at Spar's headquarters and is the centralized server for pulling and pushing information centrally for RetailSuite. Thanks to the intuitive portal of the DistributionManager, Paul Willems and his support team are able to see all the scales at a glance, grouped according to country, region and sales division. In just a few clicks, single scales can be updated, or all scales in the store network can be reconfigured.
Shortly after the installation of the new system, Spar was able to use MTRS to establish the parameters for their new label layout in accordance with the new labelling regulations.
Furthermore, the scales are loaded with price and item information by the DistributionServer, which ensures that every scale is always up to date.
To download the full case study and learn more about MTRS, visit http://www.mt.com/retail-spar.
About METTLER TOLEDO
METTLER TOLEDO is a leading international manufacturer of precision measuring instruments. The company is the world's largest manufacturer and supplier of weighing systems for laboratories, industry and food retail.
METTLER TOLEDO is one of the three leading suppliers of various complementary measuring technologies and a leading supplier of automated pharmaceutical research and ingredient development systems. Moreover, the company is the world's biggest manufacturer and supplier of metal recognition systems for the production and packaging industry. Further information on METTLER TOLEDO Retail can be found at: http://www.mt.com/retail.