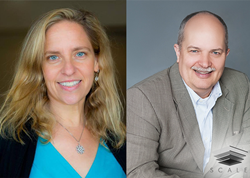 This new advisory board will provide critical insight and support for our company's ambitious agenda for the remainder of this year, and position us for massive growth in 2021. - Ben Flohr, Scale Co-Founder
SHERMAN OAKS, Calif. (PRWEB) August 17, 2020
Scale Media announces the launch of their 2020 Advisory Board as part of an aggressive growth strategy to expand their beauty, health and wellness brands nationwide. Noted industry experts in business operational strategy, data intelligence and action planning, Keren Aminia and Edward Hauck have officially joined the tech-driven direct-to-consumer company's advisory board to provide critical insight and support for Scale's ambitious agenda the second half of 2020 and beyond.
Aminia is a Principal of Comxsen, a distinguished consulting firm that helps companies grow by translating vision into operational and business success. With past leadership roles at eBay and Magento and a degree in Business Economics from UCLA, she brings over two decades of experience spearheading expansion initiatives and building ecosystem engagement.
"Over the past few years working with the Scale team on creating an infrastructure for growth, it became clear that Scale is positioning itself to be an industry leader as a conglomerate of beauty, health and wellness brands and also as a trailblazer of scalable eCommerce and digital technology," said Aminia. "This winning combination is unique in the market and has tremendous potential. My focus will continue to be organizational design and driving operational initiatives."
Hauck has held several executive roles at prominent science-based health and natural product companies, and is presently the Managing Partner of Nutrition Business Advisors, creating and executing on new business opportunities for investors and clients. Previously, Hauck was President of Healthy Directions and COO of Stop Aging Now. He holds an MBA in Marketing, Finance and International Business from Northwestern University – Kellogg School of Management and is a member of several distinguished boards.
"Scale Media is passionate about optimizing business results through the combination of data, technology and marketing," said Hauck. "I do not see a limit on Scale's success over the next decades as they launch new brands and implement enhanced marketing techniques in the high growth Natural Products industry."
Scale's proprietary eCommerce and digital marketing engine continues to drive exponential growth in their consumer lifestyle brands. The LA-based company was recently recognized as one of Forbes' Best Startup Employers for 2020, and honored with the Nutrition Business Journal (NBJ) Award for Leadership and Growth.
"Keren and Ed have been instrumental in guiding the executive team at Scale during our rapid growth by sharing their vast experience and expertise. We are confident in our ability to continue scaling up with their insightful counsel," added Partner and Scale Co-Founder, Ben Flohr.
Learn more about Scale at https://scale.tech/.
About Scale:
Headquartered in Los Angeles, California, Scale is a tech-driven direct-to-consumer company that builds and deploys next-generation CPG brands in the beauty, health and wellness industries. Through their proprietary eCommerce and digital marketing engine, Scale transforms consumers' end-to-end online shopping experience while increasing brand loyalty and retention. Since 2014, the company has rapidly powered and scaled concepts into multi-million-dollar consumer lifestyle brands, including 1MD, Hair La Vie, Simple Beauty, LiveWell, and Essential Elements. Today, Scale's growing portfolio of 70+ products helps hundreds of thousands of people live healthier lives. Learn more at Scale.tech.
Media Inquiries: Nicole Khandhar, Director of Operations, Scale