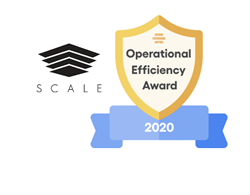 We're proud to receive this Operational Efficiency Award because as a company we've really been focusing on leveraging resources, increasing productivity, and shortening the timeframe from product development to go-to-market release. Ben Flohr, Co-Founder at Scale Media
LOS ANGELES (PRWEB) October 28, 2020
Scale Media, a tech-driven direct-to-consumer company powering wellness and beauty brands, was honored this month with the 2020 Operational Efficiency Award by Hive, a leading productivity platform for centralized workflow management and insights. Over the past three years, Scale has steadily improved overall efficiency and project management processes while developing new products and doubling their revenue year-over-year, with no signs of slowing down.
Realizing the increasing need to streamline quarterly planning and day-to-day operations, Scale utilized the Hive project management tool across their entire organization, which includes five multi-million-dollar consumer lifestyle brands, over 70 products, 130 employees, and dozens of departments, including a full in-house creative agency housing design, software development, video, email, and analytics teams.
"We're proud to receive this Operational Efficiency Award because as a company we've really been focusing on leveraging resources, increasing productivity, and shortening the timeframe from product development to go-to-market release," said Ben Flohr, Co-Founder at Scale. "This recognition is especially meaningful to us because it's a testament to our focus, not just on growth, but also on operational excellence, which allowed us to scale. The operations department built the framework within Hive that enabled us to work even more collaboratively and effectively."
As Scale has already launched 20 products this year, with an additional nine slated by December, Hive's centralized tracking platform will continue to play an important role in helping the company plan cohesively, track simultaneous projects, allocate resources, and manage teams.
"Scale Media is this year's recipient of Hive's Operational Efficiency Award for their incredible and comprehensive work in Hive," said John Furneaux, CEO and Founder of Hive. "This award is all about recognizing teams that have used Hive to exponentially increase workflow efficiency and business operations, which Scale has excelled in. Their tireless work in Hive has resulted in such a meaningful impact for their business, and we are proud to partner with them."
Learn more about Scale and their house of brands at Scale.tech.
About Scale:
Headquartered in Los Angeles, California, Scale is a tech-driven direct-to-consumer company that builds and deploys next-generation CPG brands in the beauty, health and wellness industries. Through their proprietary eCommerce and digital marketing engine, Scale transforms consumers' end-to-end online shopping experience while increasing brand loyalty and retention. Founded in 2013 by serial entrepreneurs Ben Flohr and Ziv Haklili, the company has rapidly powered and scaled concepts into multi-million-dollar consumer lifestyle brands, including 1MD, Hair La Vie, Simple Beauty, LiveWell, and Essential Elements. Today, Scale's growing portfolio of 70+ products helps hundreds of thousands of people live healthier lives. The company is recognized as a Forbes' Best Startup Employer for 2020, and is the 2020 recipient of the NBJ Leadership & Growth Award. Learn more at Scale.tech.
Scale Media Inquiries: Nicole Khandhar, Director of Operations, Scale Media, nicole.k@scale.tech