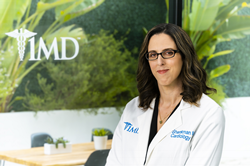 Given the substantial clinical studies behind Bergavit, our star ingredient in CholestMD, and the addition of other critical heart health ingredients, we are creating the new gold standard to support healthy cholesterol levels for Americans, said Ziv Haklili
SHERMAN OAKS, Calif. (PRWEB) April 19, 2021
1MD™, developer of physician-formulated, clinical-strength health supplements, has just launched CholestMD, a broad-spectrum formula designed to support optimal HDL and LDL cholesterol levels, proper metabolic function, and overall heart health. One of Scale Media's next-generation consumer lifestyle brands in the wellness sector, 1MD has steadily added to their line-up of over 20 nutritional products throughout the past year as they continue to promote healthier living by bridging the gap between medicine and nutrition.
1MD's launch of their breakthrough CholestMD formula is rooted in compelling clinical data including, "Bergamot Reduces Plasma Lipids, Atherogenic Small Dense LDL, and Subclinical Atherosclerosis in Subjects with Moderate Hypercholesterolemia: A 6 Months Prospective Study," which showed how Bergavit's bergamot flavonoids supplementation significantly reduced plasma lipids and improved the lipoprotein profile. Rounding out this formula are clinically-validated daily doses of niacin, olive leaf 40% oleuropein extract, and garlic bulb 20:1 extract, providing the highest standard of cholesterol maintenance.
The product launch news comes alongside Scale's announcement they have added Heather Shenkman, M.D., F.A.C.C., a board-certified Interventional Cardiologist, to their Scientific Advisory Board and plan to leverage her medical expertise and experience. Shenkman is an esteemed Fellow of the American College of Cardiology, serving on their California chapter's Board of Directors. She completed her internal medicine residency training at Henry Ford Hospital in Detroit, Michigan, cardiology fellowship training at the University of Rochester, and her interventional cardiology fellowship training at Tufts Medical Center in Boston, Massachusetts.
"We are proud to have Dr. Shenkman join our scientific advisory board at such a critical time for 1MD's product line expansion focused on heart health," said Ziv Haklili, Co-Founder of Scale. "Given the substantial clinical studies behind Bergavit, our star ingredient in CholestMD, and the addition of other critical heart health ingredients, we are creating the new gold standard to support healthy cholesterol levels for Americans."
"Many of my patients tell me they are looking for natural ways to lower their cholesterol," said Shenkman. "I'm excited to be partnering with 1MD to support CholestMD, a natural option to promote healthy cholesterol levels, more than by healthy diet and exercise alone."
Learn more about 1MD at https://1md.org/.
About Scale:
Headquartered in Los Angeles, California, Scale is a tech-driven direct-to-consumer company that builds and deploys next-generation CPG brands in the beauty, health and wellness industries. Through their proprietary eCommerce and digital marketing engine, Scale transforms consumers' end-to-end online shopping experience while increasing brand loyalty and retention. Founded in 2013 by serial entrepreneurs Ben Flohr and Ziv Haklili, the company has rapidly powered and scaled concepts into multi-million-dollar consumer lifestyle brands, including 1MD, Hair La Vie, Simple Beauty, Live Conscious, Tru Alchemy and Essential Elements. Today, Scale's growing portfolio of 80+ products helps hundreds of thousands of people live healthier lives. The company is recognized as a Forbes' Best Startup Employer for 2020, and is the 2020 recipient of the NBJ Leadership & Growth Award. Learn more about Scale and their house of brands at ScaleMedia.com.
Scale Inquiries: Nicole Khandhar, nicole.k@scale.tech
1MD Inquiries: jen.f@scale.tech