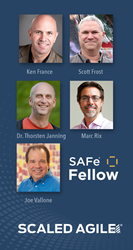 The SAFe Fellow program represents the ultimate achievement for those looking to advance Lean-Agile methods at enterprise scale with SAFe.
Boulder, Colorado (PRWEB) October 15, 2018
Scaled Agile, Inc. (SAI), provider of SAFe®, the world's leading framework for enterprise agility, today announced the induction of five new Fellows into the SAFe® Fellow Program: Ken France, Scott Frost, Marc Rix, Joe Vallone, and Dr. Thorsten Janning. The SAFe Fellow achievement is Scaled Agile's most prestigious distinction, recognizing individuals who have exhibited the highest level of mastery and thought leadership in the practice of SAFe.
The new inductees have been selected and vetted based on a combination of their ongoing contribution to the evolution of the Framework, their demonstrated success in a broad range of SAFe implementations, and their willingness to share their expertise in the public arena through writing and speaking.
"The SAFe Fellow program represents the ultimate achievement for those looking to advance Lean-Agile methods at enterprise scale with SAFe," said Dean Leffingwell, creator of SAFe and Chief Methodologist. "If we are in a challenging situation—whether puzzling over the next-generation framework or struggling to optimize a SAFe implementation—these are the folks we turn to."
Achieving SAFe Fellow status is a multi-year journey that requires years of practice and contribution. Prospective SAFe Fellows must be nominated by two existing Fellows, reviewed by all existing SAFe Fellows, and then finalized by the SAFe Fellow Nomination Committee.
"With 70 percent of Fortune 100 enterprises adopting SAFe practices, and over 300,000 individuals trained and certified, the demand for high-level expertise and thought leadership has been enormous," said Drew Jemilo, co-founder of SAI, and SAFe Fellow Program Director. "The SAFe Fellow Program is a key aspect of our enterprise enablement strategy, especially when it comes to supporting enterprises tackling highly complex and challenging implementations."
SAI is pleased to welcome the newest members of the program:
Ken France, SPCT, Vice President of Scaled Agile Practice, cPrime
One of the first U.S.-minted SPCTs, Ken France has worked with SAFe since its inception and actively contributes to the Framework. With more than 25 years of experience in IT, Ken has successfully supported multiple Fortune 100 enterprises throughout their large and complex scaled agile transformations, and has taught and certified over 500 SAFe® Program Consultants (SPCs). Ken's passion is to help empower all levels of the organization to drive sustainable improvements and meaningful change.
Scott Frost, SPCT, Sr. SAFe Agile Coach, Accenture | SolutionsIQ
Scott has worked on several Fortune 50 transformations for companies including FedEx—where he's trained over 225 SPCs and 70 SAFe® Release Train Engineeers (RTEs)—American Express, AmerisourceBergen, AT&T, Discover, ExxonMobil, State Farm, and Verizon. At SolutionsIQ | Accenture, Scott is responsible for growing the SPC/SAFe Program Consultant Trainer (SPCT) pipeline, which now includes over 10,000 SAFe-trained professionals. Scott contributes to the Framework through his work with courseware and exam development, and by feeding implementation learning back into the SAFe community.
Dr. Thorsten Janning, SPCT, KEGON AG
As a cofounder and CEO of KEGON AG, Thorsten evolved the company into the leading Agile transformation partner for large enterprises in the German-speaking market. In 2016, he became the first Certified SAFe Program Consultant Trainer (SPCT) in Germany, and has since turned his attention to developing advanced, Lean-Agile portfolio process implementations that enable large enterprises to manage their portfolios as a professional front end to their solution trains.
Marc Rix, SPC, Icon Agility Services
Marc Rix is the acting DevOps Practice Lead at Icon Agility Services, contributor to the Framework, and co-author of the SAFe® DevOps and SAFe® System and Solution Architect courses. He accelerates digital transformations by providing practical coaching and advice designed to deliver 'order-of-magnitude-gains (OMG) moments' in product delivery speed, quality, and reliability that force large-scale paradigm shifts in IT culture.
Joe Vallone, SPCT, Scaled Agile, Inc.
Joe Vallone is a senior Agile coach and trainer at Scaled Agile Inc., and has been involved in the Lean and Agile communities since 2002. An effective leader and speaker with over 25 years of software development and leadership expertise, Joe has implemented large-scale Agile transformations at several Fortune 100 companies, and is a Certified Scrum Master (CSM), Certified Scrum Professional (CSP), and Certified SAFe Program Consultant Trainer (SPCT).
Details about the SAFe Fellow program can be found at scaledagile.com/safe-fellows.
About Scaled Agile, Inc.
Scaled Agile, Inc., is the provider of SAFe®, the world's leading framework for enterprise agility. Through learning and certification, a global partner network, and a growing community of over 300,000 trained professionals, Scaled Agile helps enterprises build better systems, increase employee engagement, and improve business outcomes. Scaled Agile is a contributing member of the Pledge 1% corporate philanthropy and community service movement. Learn about Scaled Agile and SAFe at scaledagile.com and scaledagileframework.com.
Media Contact:
Regina Cleveland, Director of Communications
+1.720.477.1756
Regina.Cleveland@scaledagile.com