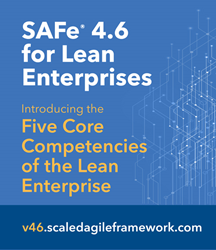 To achieve the speed and flexibility required to survive and thrive, organizations need to take the next quantum leap by transforming into a Lean enterprise.
BOULDER, Colo. (PRWEB) October 03, 2018
Scaled Agile, Inc., provider of the leading framework for enterprise agility, today announced the general availability of SAFe® 4.6 for Lean Enterprises. The centerpiece of the new version is the Five Core Competencies of the Lean Enterprise, a groundbreaking initiative that enables organizations to achieve and sustain a competitive advantage in the marketplace through the practice of Lean, Agile, and DevOps.
Through the five competencies, SAFe 4.6 addresses the primary attributes of organizations that have successfully transformed into a Lean enterprise.
Lean focuses on a culture of continuous improvement that enables value creation for the end customer with minimal waste and processes. Today, many of the world's largest organizations and governments are moving toward a Lean approach and finding that the transformation journey can be extraordinarily challenging. Mastery of the Five Core Competencies of the Lean Enterprise equips organizations to successfully navigate the transformation, and enables them to respond effectively to volatile market conditions, changing customer needs, and emerging technologies.
Each core competency describes the knowledge, skills, and mindset needed to help an organization navigate the complex challenges of a world driven by digital transformation:

Lean-Agile Leadership
Team and Technical Agility
DevOps and Release on Demand
Business Solutions and Lean Systems Engineering
Lean Portfolio Management
"At this stage of market development, team Agile, by itself, is no longer sufficient for an enterprise to compete," said Dean Leffingwell, creator of SAFe and Co-founder of Scaled Agile. To achieve the speed and flexibility required to survive and thrive, organizations need to take the next quantum leap by transforming into a Lean enterprise. You do that by integrating the five core competencies into the organizational DNA of the business. Through SAFe, the competencies provide a powerful link between strategy and execution that enables the business to deliver the highest quality solutions on demand even in the most complex and diverse environments. Think of the competencies as a mission-critical roadmap that business owners can use to identify knowledge and leadership gaps, inform strategic and organizational decisions, improve solution development, and ultimately position the business for maximum fitness and readiness."
Another key enhancement in SAFe 4.6 is a new area of guidance devoted to government agencies. "There is a hotbed of activity from the public sector adopting the Framework," said Dr. Steve Mayner, SAFe Fellow and Principal Consultant at Scaled Agile. "While we've found that there are more similarities in development between industry and government than there are differences, we also know that the people leading these transformations are hungry for guidance that addresses their unique challenges. We're meeting that need in SAFe 4.6."
"This latest version of the Framework reflects our continued commitment to deliver solutions that help our customers tip the scales for success as they turn to SAFe to compete in today's turbulent marketplace," said Chris James, President and COO at Scaled Agile. "As organizations look to master the five competencies, Scaled Agile is committed to supporting their efforts through ongoing Framework development, and a robust professional development and continuous learning program."
Below is the schedule for the SAFe 4.6 release:
October 3, 2018
November 14, 2018
The SAFe 4.6 website will relocate to scaledagileframework.com
Scaled Agile's SAFe 4.6 role-based courses become available
The SAFe 4.5 website will move to v45.scaledagileframework.com
SAFe® 4.6 for Lean Enterprises is fully backwards compatible to the previous version of the Framework. Details about what's new can be found at v46.scaledagileframework.com/whats-new-in-safe-46.
About Scaled Agile, Inc.:
Scaled Agile, Inc., is the provider of SAFe®, the world's leading framework for enterprise agility. Through learning and certification, a global partner network, and a growing community of over 300,000 trained professionals, Scaled Agile helps enterprises build better systems, increase employee engagement, and improve business outcomes. Scaled Agile is a contributing member of the Pledge 1% corporate philanthropy and community service movement. Learn about Scaled Agile and SAFe at scaledagile.com and scaledagileframework.com.
Media Contact:
Regina Cleveland, Director of Communications
regina.cleveland(at)scaledagile.com