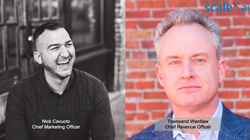 "It's an honor to be a part of a company like ScaleX," said Nick. "I'm looking forward to building on the brand's incredible success and helping to propel it to even greater heights." Nick Cavuoto, CMO, ScaleX.ai
LITTLETON, Colo. (PRWEB) June 05, 2020
ScaleX.ai today announced that Nick Cavuoto has been named Chief Marketing Officer and Townsend Wardlaw has been named Chief Sales Officer of the company.
As Chief Marketing Officer, Nick will oversee marketing strategy, advertising, digital, and the overall brand experience at ScaleX.ai. He will report directly to ScaleX's CEO Chad Burmeister.
"Nick has a long track record of demonstrated performance across a diverse set of global brands," said Chad. "We're excited to have him take the reins as CMO. His extensive experience in brand building, innovation, digital marketing, and organizational leadership will be integral in leading ScaleX.ai to its next phase of growth."
Over the past four years, Nick built and founded businesses that, combined, have generated multiple 7-figures of growth. Smart Marketing Mastery, has helped thousands of business owners earn over 250,000 leads and $40M in revenue by mastering the core competencies of lead generation, branded content creation, profitable digital advertising, and sales automation. Nick's work has been featured in Forbes, Entrepreneur Magazine, and Gary Vaynerchuk's blog. His client's work has been featured in some pretty special publications; iHeart Radio, NBC, Fox, ABC, CBS, Buzzfeed, Dr. Axe, and the Super Human Podcast. With Microsoft, Pandora, Paychex, and a few other notable brands Nick has managed several billion dollars in products, while leading marketing initiatives generating tens of millions in revenue.
"It's an honor to be a part of a company like ScaleX," said Nick. "I'm looking forward to building on the brand's incredible success and helping to propel it to even greater heights."
As Chief Sales Officer, Townsend Wardlaw will oversee sales and revenue generation for ScaleX. Townsend has seen over 350 instances of SalesForce deployed, including "some really gnarly ones over the years" as he puts it. ScaleX is excited to have Townsend run the direct sales team to continue to grow direct sales by 200% or more so that the company can invest in the tools for enabling the channel to continue to scale and grow.
"Townsend has been a mentor and a coach for the past year and helped me discover that my bigger purpose in life is to be a warrior for God. Although I'm not 100% sure what that means yet, I know that my grandparents would be proud. And I also know that since I've moved aside to follow God's purpose for my life, amazing things continue to happen. I'm thankful that Townsend is running the direct sales team. I'm certain that he'll inspire the team to deliver some of the best quarters in done-for-you prospecting that the world has ever seen," said Chad Burmeister, CEO of ScaleX.ai
Learn more about ScaleX.ai here: https://www.scalex.ai/solutions.
About ScaleX.ai - ScaleX.ai delivers AI for Sales and Pipeline as a Service. Whether you are looking to bring 10X more productivity to your internal sales team, or partner with a company that consistently delivers 10-25 or more meetings per month per virtual BDR, ScaleX has a solution. To learn more about ScaleX.ai, watch the YouTube Video: https://www.youtube.com/watch?v=h-DiV2ceDM4