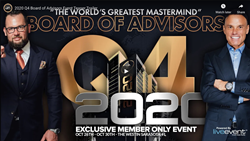 "I've never been to a more like-minded entrepreneurial event that showcased so many incredible ideas and opportunities," Chad Burmeister, CEO of ScaleX.ai
Sarasota, Florida (PRWEB) October 31, 2020
Today, ScaleX.ai Joins Board of Advisors (http://www.boardofadvisors.com) to Further Expand AI for Sales.
After attending the Q4, 2020, Board of Advisors executive event in Sarasota, Florida, Chad Burmeister said, "I've never been to a more like-minded entrepreneurial event that showcased so many incredible ideas and opportunities. After being in lock-down for months, it was refreshing to travel to Sarasota, and it was equally refreshing to see where events are headed - with the launch of the hybrid event."
Board of Advisors is known as "the world's greatest mastermind" that consists of a select group of the nation's most disruptive business owners, real estate investors, technology providers, and marketers. The company was founded by Mike Calhoun, and features the likes of Kevin Harrington, the first shark on the Shark Tank, and nearly 100 members.
About Board of Advisors
Members create businesses together.
Members finance and fund deals for each other.
Members join as financial partners to super fund self-directed retirement accounts with TAX FREE DOLLARS.
We maximize profit dollars by systematizing inefficiencies.
We share coveted resources and relationships.
We joint venture on products and services.
On the Board of Advisors website, this quote from Kevin Harrington says it all.
"You're going to be impressed with the quality of members that are in attendance, the creativity of the strategies that are shared, and the competency of these entrepreneurs." - Kevin Harrington, Original Shark on Shark Tank
Learn more about ScaleX.ai here: https://www.scalex.ai/solutions.
About ScaleX.ai - ScaleX.ai delivers pipeline as a service, powered by artificial intelligence. Whether you are looking to bring 10X more productivity to your internal sales team, or partner with a company that consistently delivers 25 or more meetings per month per BDR, ScaleX has a solution. To learn more about ScaleX.ai, watch the YouTube Video: https://www.youtube.com/watch?v=h-DiV2ceDM4