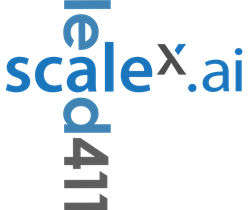 "Until now, there hasn't been a platform that enables you to track sales triggers, that can be automatically fed into an AI for Sales platform, and then execute sales activities to create a pipeline of only companies that fit your ideal customer profile." Chad Burmeister, CEO, ScaleX.ai
LITTLETON, Colo. (PRWEB) November 06, 2019
Today ScaleX.ai, the leader AI for Sales, announced a strategic partnership with Lead411 for trigger-based sales intelligence.
As a customer of Lead411 since early 2018, ScaleX.ai has sourced thousands of leads through the Lead411 Trigger-Based Sales Intelligence Platform to build a mutli-million dollar business in sales in less than two years. By reaching out to companies within days of the time they are funded, to tracking executive changes, and more, ScaleX harnesses the power of trigger-based selling in nearly everything that we do. When asked how ScaleX.ai has been able to scale to over 100 customers, the CEO of ScaleX.ai Chad Burmeister says, "It all starts with clean and accurate data. And that's why we partner with best-of-breed providers like Lead411 who give our customers a unique advantage in the market."
When Tom Blue, CEO of Lead 411 is asked about the Lead411 sales intelligence platform he says Lead411 provides--catalysts (time sensitive sales triggers such as hiring changes, new personnel, new fundings, spending initiatives, new job announcements, hiring plans, new offices, and those kind of things) + context (knowing as much as you possibly can about your prospect so you can talk them intelligently and you can also know what their pain points are) = intelligent conversations.
By coupling the power of the Trigger-Based Sales Intelligence Platform with the power of ScaleX.ai to enhance the outreach, powered by artificial intelligence, ScaleX and Lead411 offer a unique bundled approach to first discovering the market, and second accelerating sales outreach through phone, email, social, and digital paid ads to dominate that market.
The value proposition for ScaleX/Lead411 clients:

Recruiters - Track clients' needs and be there when they need you. Lead411 tracks the trends that indicate placement opportunities and ScaleX automates the outreach to them.
Sales Teams - Sell more, search less and send messages with accurate and up to date contact information including verified emails, mobile direct dials, trigger notification and lead intelligence.
Marketing Leaders - Find prospects that fill the funnel with actionable data. Drive increased traction with Reach campaigns that target the right customers at the right time.
According to Chad, "Until now, there hasn't been a platform that enables you to track sales triggers that can be automatically fed into an AI for Sales platform, and then execute sales activities to create a pipeline of only companies that fit your ideal customer profile." Coupled with digital paid-ads to the same list through ScaleX.ai's new offering, persuadable.ai, you can hire a single provider to provide data + digital outreach + dials + digital paid-ads to dominate a market (and adjacent markets once you dominate the first one).
Learn more about the market domination playbook here: https://www.scalex.ai/data-digital-dials-domination.
About ScaleX.ai - ScaleX.ai delivers personalization at scale, powered by artificial intelligence (TM). Whether you are looking to bring 10X more productivity to your internal sales team, or partner with a company that consistently delivers 25 or more meetings per month per BDR, ScaleX has a solution. To learn more about ScaleX.ai, watch the YouTube Video: https://www.youtube.com/watch?v=h-DiV2ceDM4