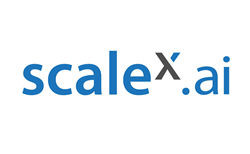 "I do what I do to help the lowest performing sellers become the best performing sellers because I was fired from my first sales job out of college." Chad Burmeister, CEO, ScaleX.ai
LITTLETON, Colo. (PRWEB) June 10, 2019
ScaleX.ai Today Announced Acceptance To The Newchip Accelerator Program, Voted Top 10 AI for Sales Solution 2019, and the CEO Shares Why He Started ScaleX
"We are very excited to have ScaleX.ai join the Newchip family," remarked Ryan Rafols, Founder & CEO of Newchip. "The team impressed us from the start—we are eager to see how they take ScaleX.ai to the next level. They have a unique perspective on their market and what they've built so far shows great promise."
Launched in late 2017 by Chad Burmeister, ScaleX simplifies outbound prospecting and pipeline generation, helping funded start-ups and publicly traded companies grow their pipelines 2-3X faster, by focusing the right message on the right influencers within the right company, through the right channel. ScaleX.ai provides Just-In-Time Data, Digital Outreach (email and social) and Dials (powered by Agent-Assisted Dialing).
"There's a massive distance between how traditional sales professionals do outbound prospecting, and how sales professionals powered by AI do their daily outreach," says CEO and Founder Chad Burmeister. ScaleX.ai enables your entire sales team to be as effective as your top performers.
Selling Power names ScaleX.ai a Top 10 AI solution for sales in 2019 - Selling Power reviewed several hundred AI tools for sales. ScaleX was namde as a top 10 AI solutions for sales in 2019. Click here to read the full article.
Why did Chad start ScaleX.ai? "I do what I do to help the lowest performing sellers become the best performing sellers because I was fired from my first sales job out of college". Chad Burmeister, CEO, ScaleX.ai. Click here to watch the video.
ScaleX.ai is being utilized by 100+ high-profile sales teams inside and outside of the technology vertical. In December 2018, ScaleX.ai closed their first seed fundraising round of $50,000 to ramp up their integration strategy with best-of-breed solutions.
"We have seen the future, and it's powered by artificial intelligence," says Chad Burmeister.
Visit http://www.scalex.ai to learn more.
Take a look at the other companies accepted into the Newchip accelerator at https://www.newchip.com
About ScaleX.ai - ScaleX.ai delivers personalization at scale, powered by artificial intelligence (TM). Whether you are looking to bring 10X more productivity to your internal sales team, or partner with a company that consistently delivers 25 or more meetings per month per BDR, ScaleX has a solution. To learn more about ScaleX.ai, watch the YouTube Video: https://www.youtube.com/watch?v=h-DiV2ceDM4&t=11s