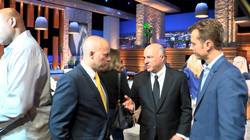 "I'm eager to learn best practices in marketing by collaborating with ERock and BizFamous. As a sales leader who collaborates with marketing, I'm excited to be a sales (and marketing) leader who owns sales and marketing," said Chad Burmeister, CEO of ScaleX.ai
LITTLETON, Colo. (PRWEB) March 02, 2020
As AI for Sales becomes a space, ScaleX.ai continues to be at the forefront of this movement.
To further the creation of the AI for Sales category, ScaleX.ai welcomes ERock (Eric) Christopher to the ScaleX Board of Advisors. In this role, ERock will provide marketing advisory and executive leadership to continue to be at the forefront of AI for Sales.
The BizFamous 5 Tips to Make Your Business Famous:
1) Create an ingenious product. Check (ScaleX.ai is the first-ever AI for Sales platform)
2) Leverage social media marketing. Check (currently investing $500/mo on digital ads, will be scaling that aggressively)
3) Build a community. Check (The Sales Expert Channel AI for Sales Expert, and the C-Suite Network AI for Sales Podcast)
4) Devise a publicity hook to win earned media coverage. Work in progress.
5) Know your strengths and stay focused. Work in progress.
According to ERock, "When I first learned what ScaleX was doing for entrepreneurs, I was instantly drawn to help ScaleX continue to build the brand and the AI for Sales category. Chad's history of leading sales for successful companies like Cisco-WebEx, Riverbed, ON24, and RingCentral, is impressive, and his ability to execute is unparalleled."
Within the first few weeks, the enhancements recommended by ERock have already made a difference. Customer Testimonials are a big deal - so ScaleX flew to Phoenix, Arizona to shoot a customer case study video that will be highlighted throughout the month of March via paid-ads and digital outreach. ERock will collaborate with the ScaleX executive team to track existing conversion rates, then help us increase spend, and ultimately meetings/pipeline and bookings across various social media channels.
"I'm eager to learn best practices in marketing by collaborating with ERock and BizFamous. As a sales leader who collaborates with marketing, I'm excited to be a sales (and marketing) leader who owns sales and marketing," said Chad Burmeister, CEO of ScaleX.ai.
About ERock: ERock is driven by his mission to help entrepreneurs attract the right audience, build authority, and generate revenue. Before devoting his work fulltime as a business consultant, he served as a strength and conditioning coach to amateur athletes and Olympic gold medalists. He pursued his passion for the media industry after the success of his part-time marketing business.
Learn more about ScaleX.ai here: https://www.scalex.ai/solutions.
About ScaleX.ai - ScaleX.ai delivers personalization at scale, powered by artificial intelligence (TM). Whether you are looking to bring 10X more productivity to your internal sales team, or partner with a company that consistently delivers 25 or more meetings per month per BDR, ScaleX has a solution. To learn more about ScaleX.ai, watch the YouTube Video: https://www.youtube.com/watch?v=h-DiV2ceDM4