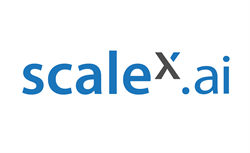 "Successful outbound requires a perfect mix of quality and quantity. With the launch of SocialFlow, we're further enhancing the quality that our clients have come to expect. This is truly the first-ever AI for Social Selling engine on the market today!" Chad Burmeister, CEO, ScaleX.ai
LITTLETON, Colo. (PRWEB) February 27, 2020
ScaleX.ai is pleased to announce the newest addition to its revenue-focused suite of AI for Sales offerings. Harnessing the power of personal connections, SocialFlow does three things better than anyone else; 1. help companies monetize the professional relationships employees have cultivated over their careers, 2. get warm introductions to high-dollar prospects that can materially impact quota attainment, and 3. do so at scale, across entire organizations.
Often referred to as a 'warm introduction engine', SocialFlow helps companies change the way they generate qualified leads. Instead of wasting time trying to get prospects on the phone, SocialFlow fast-tracks access, enabling reps to spend their time having meaningful conversations. No longer will reps send dozens of emails or leave dozens of voicemails. With SocialFlow, it is not uncommon for prospects to take meetings on the very first outreach. It's no wonder warm introductions are called 'the most valuable currency in business'.
According to Chad Burmeister, CEO of ScaleX, "Successful outbound requires a perfect mix of quality and quantity. With the launch of SocialFlow, we're further enhancing the quality that our clients have come to expect. This is truly the first-ever AI for Social Selling engine on the market today!"
Learn more about ScaleX.ai here: https://www.scalex.ai/solutions.
About ScaleX.ai - ScaleX.ai delivers personalization at scale, powered by artificial intelligence (TM). Whether you are looking to bring 10X more productivity to your internal sales team, or partner with a company that consistently delivers 25 or more meetings per month per BDR, ScaleX has a solution. To learn more about ScaleX.ai, watch the YouTube Video: https://www.youtube.com/watch?v=h-DiV2ceDM4