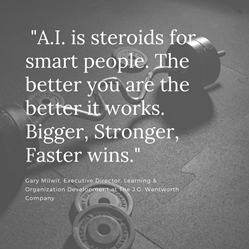 "A.I. is steroids for smart people. The better you are the better it works. Bigger, Stronger, Faster wins." Gary Milwit, Executive Director, Learning & Organization Development at The J.G. Wentworth Company
LITTLETON, Colo. (PRWEB) September 11, 2020
Today, ScaleX Announced ScaleX Introductions For AI-Powered Account Based Outreach, the first and only AI-Augmented Account Based Outreach technology purpose built for sales professionals to generate meetings within their target accounts, passively.
Employees have spent their careers cultivating strategic business relationships, but companies continue to struggle with how to fully leverage this valuable asset.
As an employee's network increases in size, it also increases value and complexity. As a result, companies only end up leveraging about 3% of what these networks have to offer. Technology not only saves sales and business development representatives hundreds of labor hours, but also unlocks opportunities that were previously unknown to the sales professional.
According to Chad Burmeister, CEO of ScaleX, "I've always believed in the equation Revenue = Frequency x Competency. With the addition of ScaleX Introductions, we can more effectively deliver both. More volume, higher quality, leads to far more qualified meetings for our clients."
Some of the use cases we've seen so far include target account selling, finding investors for seed round or private companies, and even high velocity prospecting. One client landed a meeting with the CMO of Microsoft using this technology.
Gary Milwit, Executive Director, Learning & Organization Development at The J.G. Wentworth Company said, "A.I. is steroids for smart people. The better you are the better it works. Bigger, Stronger, Faster wins." Gary further explained, "What people need to understand is that Steroids work best for those that are already at the top of their game. A.I. gives people the edge they need to win the market."
About ScaleX.ai - ScaleX.ai delivers pipeline as a service, powered by artificial intelligence. Whether you are looking to bring 10X more productivity to your internal sales team, or partner with a company that consistently delivers more meetings per month per BDR, ScaleX has a solution. To learn more about ScaleX.ai, watch the YouTube Video: https://www.youtube.com/watch?v=h-DiV2ceDM4