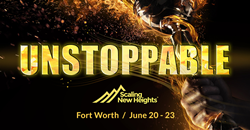 Scaling New Heights 2021 will equip accountants and bookkeepers to be unstoppable.
ATLANTA (PRWEB) November 20, 2020
Woodard Events has announced the location, dates, and theme for the annual Scaling New Heights® conference to be held in 2021. Scaling New Heights will be held June 20-23, 2021 in Fort Worth, Texas. The theme of the conference will be "Unstoppable".
The accounting and bookkeeping professions are facing formidable challenges including technology disruptions, enterprise-level competitors, increased commoditization, stifling workloads, an imminent retirement bubble, and clients who devalue accounting services.
"Though these challenges may seem daunting, they are not insurmountable," said Joe Woodard, host of Scaling New Heights. "So, we designed Scaling New Heights 2021 to equip accounting and bookkeeping professionals to address these challenges through the modernization of their practices, the standardization of their processes, the deployment of highly efficient and scalable business models, the development of a distinctive brand, the increase of their technical proficiencies, and the effective pricing of their services. In other words, Scaling New Heights 2021 will equip accountants and bookkeepers to be unstoppable."
You can learn more about the Scaling New Heights conference at ScalingNewHeights.com.
About the Annual Scaling New Heights Conference
Scaling New Heights launched in 2009 and has grown over the past decade into one of the world's largest and highest rated accounting technology conferences and expositions. In 2021, the training and presentations around our conference theme, Unstoppable, will equip bookkeepers, accounting technologists, tax preparers, CPAs and other small business advisors to standardize their practices to compete effectively with scaled models, to modernize their practices to leverage landscape-changing technologies, and to navigate the impact of the COVID-19 crisis on their practices and small business clients.
Learn more at ScalingNewHeights.com.
About Woodard Events, LLC
Woodard Events, LLC provides education, coaching, resources, and professional communities to small business advisors and is the host of programs like the annual Scaling New Heights® conference, Woodard Alliance, Woodard Institute, and Woodard Groups.
Learn more at Woodard.com.