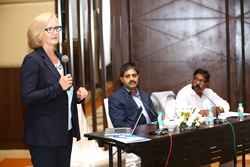 Jacksonville, FL (PRWEB) August 17, 2017
Leading immigration attorney Stephanie Scarborough, founder of Scarborough Law, L.L.C., recently spoke to American business organizations operating in India about transforming immigration policies under the Trump administration. The American Chamber of Commerce in India seminars took place in Bangalore and Chennai, India.
On April 18, 2017, Trump issued a Presidential Executive Order on Buy American and Hire American. The Executive Order lays out the executive branch policy aimed at promoting economic and national security and stimulating economic growth. In the Order, the White House laid out its policy to "rigorously enforce and administer the laws governing entry into the United States of workers from abroad."
"In order to comply with the new enforcement policy, Trump has ordered the Secretary of State, the Attorney General, the Secretary of Labor, and Secretary of Homeland Security to propose new rules and guidance to supersede and revise existing guidance to protect and prevent fraud or abuse," Scarborough said in her seminar speech. "The Order specifically seeks to 'promote the proper functioning of the H-1B visa program' in ordering the various departments to 'suggest reforms to help ensure that H-1B visas are awarded to the most-skilled or highest-paid petition beneficiaries.'"
Trump specifically noted that the existing, completely random lottery system was skewed toward outsourcing companies. "There is no doubt that the present administration is poised for an assault on the H-1B program," noted Scarborough. "On two previous occasions, members of this administration have signaled the administration would be tough on H-1B employers and workers."
The Department of Justice issued a sharp warning against employer discrimination of foreign workers. Acting Assistant Attorney General of the Civil Rights Division Tom Wheeler said in a release that the Justice Department will "not tolerate employers misusing the H-1B visa process to discriminate against U.S. workers," and "U.S. workers should not be placed in a disfavored status, and the department is wholeheartedly committed to investigating and vigorously prosecuting these claims."
In the same week, the Department of Labor issued a memo emphasizing protections against perceived "H-1B Fraud and Abuse." The memo stated that the Department would take action, including inter-agency coordination, to investigate H-1B program violators, changing the Labor Conditions Application, and engaging stakeholders on program improvements.
"The message is clear: Employers who hire foreign workers must take steps to ensure compliance with existing laws and regulations or face administrative and judicial prosecution," concluded Scarborough.
About Stephanie Scarborough, Scarborough Law, L.L.C.
Stephanie Scarborough is an Attorney and Business Counselor to small businesses and multinational corporations. Scarborough manages Scarborough Law's offices in Jacksonville, Florida, and Alpharetta, Georgia, and is admitted to practice law in New York and Georgia. Scarborough Law has three offices: 6622 Southpoint Drive South, Suite 330, Jacksonville, FL, 32216, (904) 389-0055; 4080 McGinnis Ferry Road, Suite 204, Alpharetta, GA, 30005, (678) 257-1808; and Scarborough Immigration Services Pvt. Ltd., Trivandrum, India, +91 98955 98755. For more information, visit http://www.scarboroughlaw.com.
About the NALA™
The NALA offers small and medium-sized businesses effective ways to reach customers through new media. As a single-agency source, the NALA helps businesses flourish in their local community. The NALA's mission is to promote a business' relevant and newsworthy events and achievements, both online and through traditional media. The information and content in this article are not in conjunction with the views of the NALA. For media inquiries, please call 805.650.6121, ext. 361.