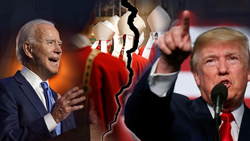 Dear bishops, don't be surprised when you wake up to find out how much respect you have lost by ignoring the majority of the Church
CARITAS, Ala. (PRWEB) November 19, 2020
Terry Colafrancesco, president of Caritas of Birmingham, in Alabama, recently published a scathing piece on the silence of the church leadership during the recent U.S. Presidential Election. Here's a few quotes from what Terry wrote:
"Sadly, most [Catholic] bishops are not doing their jobs, nor are many of our civil authorities. The sheep are being left to the wolves."
"Among the bishops who do voice disapproval of what the left is doing, their protests are generally scant, weak and almost apologetic. They are either afraid of being accused of being political, don't want to be tied up in controversy, or they sway the Church's teachings to fit their beliefs."
"There is a fishnet full of priests who have spoken out, but when they do, they are silenced. Many priests break their silence only to be threatened or crushed by their bishops."
"The [U.S. Conference of Catholic Bishops] does not respect us peasants in the pew. Their only concern is for indigenous people and those who come illegally into this nation. Dear bishops, don't be surprised when you wake up to find out how much respect you have lost by ignoring the majority of the Church, the peasants in the pew."
"Our country is in danger of being overthrown by godless, vile radicals. We are in a critical moment, and the bishops, in justice, should have stood up for Trump."
Terry Colafrancesco is known for his many writings and broadcasts which promote the Medjugorje phenomenon, in which 6 people in the former Yugoslavia testified to have seen the Virgin Mary. Writing under the name of a "Friend of Medjugorje," Terry knew the region of Yugoslavia while it was still under Communist rule, Terry sees the movement in the United States towards a socialist agenda as very alarming. Terry's full writing can be read on Caritas of Birmingham's website here.
Please feel free to reach out with any questions or for more information.