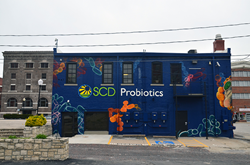 "Through research spanning over two decades of bio-based product development, SCD Probiotics has introduced a broad range of cost-effective, bio-based products into various markets — including for home and garden,"
NEW YORK (PRWEB) June 26, 2020
Mediaplanet and SCD Probiotics today announce the launch of the cross-platform campaign "Construction & Homeowners," which aims to spread awareness of the advancements and recent developments in construction and owning, building, or renovating a home. COVID-19 has upended many practices in construction and homeownership and accelerated others, such as an increased awareness of sustainable construction, and the contents of this campaign will go a long way in connecting readers with the best resources and information available.
SCD Probiotics joins Mediaplanet in promoting the Sustainability section of the campaign. Sustainability and sustainable living have never been more important – without it, we cannot maintain the same quality of life that we currently experience. This section of the campaign will highlight the brands, thought leaders, and industry leaders that are doing their part to help keep our planet as healthy and prosperous as possible.
"Through research spanning over two decades of bio-based product development, SCD Probiotics has introduced a broad range of cost-effective, bio-based products into various markets — including for home and garden," said SCD Probiotics founder and CEO, Matt Wood. "Our cutting-edge technology enables us to empower people to replace the toxic chemicals in our lives and homes and rebuild the health of these ecosystems with probiotics."
About SCD Probiotics:
Founded in 1998, SCD Probiotics creates products that don't simply replace the toxic chemicals in our lives, but also help undo their damage. The company pairs probiotics with postbiotics to restore health and balance to our soil, food, bodies, homes, industries, and planet. With more than 20 years of research and development, SCD Probiotics has built a platform to create safe, sustainable, and effective probiotic products for agriculture, industrial use, and consumers. The products that power our lives shouldn't deteriorate or endanger our health, or the health of the planet we call home. SCD Probiotics is proud to be part of that change. To learn more, visit scdprobiotics.com and join its probiotics communities on LinkedIn, Facebook, Twitter, and Instagram.
Press Contact:
Bee Wood
Bee.wood@scdprobiotics.com
About Mediaplanet
Mediaplanet specializes in the creation of content marketing campaigns covering a variety of industries. We tell meaningful stories that educate our audience and position our clients as solution providers. Our unique ability to pair the right leaders with the right readers, through the right platforms, has made Mediaplanet a global content marketing powerhouse. Our award-winning stories have won the hearts of countless readers while serving as a valuable platform for brands and their missions. Just call us storytellers with a purpose. Please visit http://www.mediaplanet.com for more on who we are and what we do.