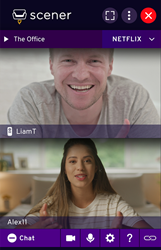 Scener's ability to coalesce storytelling and social experiences into a single platform, agnostic across major streaming platforms, is incredibly impressive and drove our confidence in this small and scrappy Seattle-based team
SEATTLE, Wash. (PRWEB) October 01, 2020
Scener, the co-watching platform where creators can engage audiences of up to a million in a virtual movie theater, announced $2.1 million in seed funding led by Seattle-based SeaChange with participation from Glaser Investments, Jason Calacanis' Syndicate, LAUNCH, RiffTrax and angel investors including RiffTrax CEO David G. Martin and technology executive Sriram Krishnan. Scener will use the funding to accelerate product development for its social platform and supercharge its events and community of watch party hosts, creating a nightly destination for collective entertainment viewing.
Creators can set up a profile at Scener.com to host public or private watch parties. A virtual destination for friends and fans to follow each other and join watch parties, Scener's virtual theaters can hold up to one million viewers with live video chat and interactive messaging features over synchronized playback of the streaming content.
"Scener is the premier way to host and enjoy watch parties and fills a void for so many of us as the movie theater experience, a beloved pastime, remains in limbo and more people turn to streaming," said Susan Preston, Managing Partner at SeaChange. "Scener's ability to coalesce storytelling and social experiences into a single platform, agnostic across major streaming platforms, is incredibly impressive and drove our confidence in this small and scrappy Seattle-based team. Their product creates a genuine feeling of togetherness and has grown tremendously as a result. We are very bullish on what the future holds for Scener."
"We're incredibly excited about this funding milestone, as it enables us to double down on our vision to become the ultimate watch party destination for anyone craving a social entertainment experience," said Joe Braidwood, co-founder and COO of Scener. "The funding not only helps to further our commitment to bring people together over the shows and movies they love, but it helps speed up our plans to bring Scener to new services and devices, as well as build up our community of incredible party hosts — from RiffTrax to Fantastic Fest. The Virtual Movie Theater is open and we'd love to see you join us there tonight!"
During October, Scener is debuting its watch party series Stream & Scream, which will bring a genre-obsessed community together to celebrate the best of horror. The programming will feature a slate of watch parties including the premiere of "The Haunting of Bly Manor" with an unannounced, surprise cast member; "Anna and the Apocalypse" with Actress Sarah Swire; "Scary Stories to Tell in the Dark" with Actor Gabriel Rush, and a LIVE lockdown horror movie as part of this year's Raindance Festival, "In The Shadows It Waits" by writer-director Michael Beets.
"We're thrilled to be partnering with Scener to feature our comedic live riff commentary synchronized with blockbuster movies across major streaming services," said David G. Martin, CEO of RiffTrax and investor in Scener. "We've been waiting our entire 14 years for this 'perfect sync' technology to exist in a watch party environment and Scener is the first we've seen to achieve it. Our investment in Scener further solidifies this synergy and we look forward to future RiffTrax Live events with over 100,000 people simultaneously watching and laughing along with a movie together on Scener."
Scener was one of the earliest innovators in co-watching and the first to introduce live video chat over synchronized streaming content and playback. Scener debuted with Netflix and now supports over 10 major streaming services, including Disney Plus, Prime Video, Alamo On Demand, Hulu and YouTube. The company has experienced massive growth since the onset of the pandemic, with almost half a million active Chrome installs and over 13.5 million viewer minutes per week.
To learn more about Scener and host your own virtual theater, visit scener.com. For more on Scener's Stream & Scream October lineup, visit scener.com/streamandscream.
###
About Scener
Scener is the co-watching platform where creators can engage audiences of up to a million in a virtual movie theater. Creators and movie lovers alike can watch and connect over the world's best streaming content while enjoying synchronized playback and live video chat. Scener supports Netflix, HBO Max, Disney Plus, Hulu, Prime Video, Funimation, Vimeo, YouTube, Alamo On Demand and Hotstar; a subscription is required for each participant on premium services. Based in Seattle, WA, Scener launched in 2018 and was incubated by media streaming pioneer RealNetworks Inc. and the LAUNCH Accelerator. To join the community and host your own Virtual Movie Theater in seconds visit scener.com.
About SeaChange
SeaChange Fund, founded in 2015, invests in high-growth, early-stage pacific northwest companies. To date, SeaChange has invested in 29 startups across seven industries, with $24M under management. These investments help support nearly 300 jobs in the region. For more information, go to SeaChange.fund.
About RiffTrax
RiffTrax is an entertainment company featuring the stars of the Emmy-nominated, Peabody Award-winning show "Mystery Science Theater 3000." Comedians Michael J. Nelson, Kevin Murphy and Bill Corbett, bring their funny running MST3K-type commentary to movies of all kind. From riffs on the biggest Hollywood blockbusters to the worst B-movies, RiffTrax has a library of over 800 titles available at RiffTrax.com and on digital platforms everywhere. RiffTrax has also produced five prime time television specials for the National Geographic Channel. RiffTrax releases a newly riffed movie, short film or TV program each week, and performs the RiffTrax Live comedy series multiple times a year where a movie is riffed live and simulcast into over 700 theaters across North America. RiffTrax was founded in 2006 and is headquartered in San Diego, CA. To find out more about RiffTrax, visit RiffTrax.com.
Press Contact
Lindsey Henn
Lindsey@Scener.com
626.893.4228