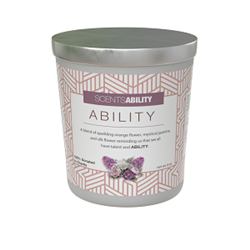 We've had only positive feedback from buyers and supporters. Everyone likes to see the name and face of the person they're helping. We're also telling their stories in videos. Buyers get unique scented candles and can take comfort in the fact that 100% of the proceeds support the cause.
DENVER (PRWEB) June 30, 2020
Not content to just evolve, Coral Springs, FL-based ScentsAbility Candles revolutionized the look, feel and messaging of their entire product line. With the motto, "We make scents," employees with intellectual and developmental disabilities (IDD) have become the inspiration, stars and makers of the new products.
Five new soy blend candles combine such scents as orange flower, mystical jasmine and silk flower custom created by four top fragrance houses. Fragrances connect to the name, message and young craftsperson who created them. Candle names are Ability, Potential, Gratitude, Purpose and Positivity.
Inspiration for the Ability candle as well as the entire ScentsAbility enterprise is 36-year-old Jessica Schmidt, who "loves everyone" according to Executive Director Denise Anderson. (The jasmine scent in this candle represents love.) Daughter of co-founder Bonnie Schmidt, Jessica's rare metabolic disorder and seizures led to doctors predicting she would never walk or talk. She persevered and now leads a full, engaged and active life—albeit while still coping with her disease daily.
Anderson points out, "Everyone can relate to those words. Besides the inspiration they provide, the words show that someone with a disability still is a human being with purpose. At a time when the concept of all lives mattering is front and center, this is an important and poignant reminder."
She adds, "We've had only positive feedback from buyers and supporters. Everyone likes to see the name and face of the person they're helping. We're also telling their stories in videos. Buyers get unique scented candles and can take comfort in the fact that 100% of the proceeds support the cause. All of this is helping people understand that our people have value and are part of the community just like anyone else."
Anderson emphasizes, "We really selected complex scents reflective of the quality and character of our people. But, we also developed them to be unique—something you can't expect to find elsewhere. There are so many layers and subtleties. In some ways, they're like fine wines."
The youthful ScentsAbility team participates fully in the candle-making process. Wax and scents, created and donated by four of the world's finest perfumers just for this purpose, are carefully mixed, hand-poured and packaged to create unique products showcasing beauty in many forms.
Making hurdles "melt" away
Anderson notes that their young adults are "in love with themselves" over their new-found star status and renewed purpose. "Instead of aging out of a government support system at 22 and losing sense of purpose as so many IDD people do, this rebranding has proven life-changing," says Anderson.
Besides Jessica, candle "celebs" are Lexi, representing her push for Purpose; Michael, who fights negativity to achieve Positivity; cancer survivor Drew who shows Potential; and Khari, whose Gratitude persona reflects his upbeat and grateful nature.
COVID impact hits young IDD adults hard
Already prone to depression, IDD adults are experiencing the double-whammy brought on by COVID-19. Notes Anderson, "A day for them is like a month for us. They have had a lot of issues, including boredom and stress. Fortunately, the rebranding came at the right time to help counter some effects. You hear about moms and dads complaining about having to home school. When this is over, their kids go back to school. We're not changing that much. This is our daily life, navigating through the situation and the day."
She points out that all these young adults need daily exercise, intellectual stimulation, socialization and spiritual insights just like everyone else. But they need help doing it. This population really struggles with getting these needs met on a daily basis.
"Many go home to elderly parents who can't provide needed support. Khari, for example, can't read. His life becomes very constricted. And, this group has been left out entirely from the stimulus payments! Our ultimate vision is to create a community where these young adults can be treated as whole people," Anderson adds.
###
About Lightning Labels:
Lightning Labels uses state-of-the-art printing technology to provide affordable, full-color custom labels and custom stickers of all shapes and sizes. From small orders for individuals to the bulk needs of big businesses, Lightning Labels is equipped to handle and fulfill custom label and sticker projects of all types. Best of all, like the name implies, Lightning Labels provides a quick turnaround for every customer's labeling needs. Uses for Lightning Labels' custom product labels and custom stickers include food packaging and organic food labels, wine and beverage labels, bath and body labels, and nutraceutical products, such as vitamins, essentials oils, and herbal remedies, as well as event stickers, adhesive window stickers and more. Lightning Labels strongly supports the development of environmentally friendly printing materials and carries Biostone, a green label material made from stone paper is water resistant and inherently strong and durable. While operating as a high-tech printer, Lightning Labels prides itself on its personalized customer service. Lightning Labels provides one stop shopping for all of your custom label needs. For more information and to place orders online, visit LightningLabels.com. For the latest in packaging news and labeling promotional offers, find Lightning Labels on Twitter (@LightningLabels), Facebook, Pinterest, and LinkedIn.