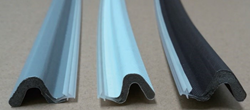 PolyFab fills a market need we've been hearing about over the years.
ROCHESTER, N.Y. (PRWEB) July 14, 2020
The PolyFab line brings to the marketplace foam, PP TPE and Dual Extrusion gaskets that meet a wide range of applications. From windows and doors to cubicles and other building and product projects, the PolyFab products provide a consistent quality unsurpassed in the industry.
The PolyFab gaskets are highly engineered using the same trusted technology as Schlegel's core EMI parts. Katherine McGee, PolyFab senior account manager, said, "We're pleased to make the PolyFab line available. It fills a market need we've been hearing about over the years. Now, any customer, large or small, knows there is a reliable source of high-quality gasket material to meet their weatherstripping and sealing product needs." Katherine said, "Schlegel EMI already had the expertise and necessary manufacturing operations, so; it was a perfect opportunity to support a new industry."
With so much shakeup among manufacturers in the weatherstripping seal industry, medium-to-small sized customers are relieved to see Schlegel, the gasket powerhouse, fill the void.
The applications for the PolyFab compression seal products are limitless. PolyFab ensures that companies that prioritize quality in their work have a choice in the marketplace. PolyFab has been especially popular among manufacturers of custom windows and doors. Their end-users expect the best, so those manufacturers depend on superior parts. The feedback from customers about PolyFab products in these and other industries has been exceptional.
PolyFab product features:

Highly engineered embossed polyethylene liner
UV stabilization
Resilient urethane open-celled foam
Dual durometer insert
A range of foam types and cladding colors
Halogen-free
Cut-to-Lengths
Custom profile availability
Polypropylene Thermoplastic Elastomer availability
Because PolyFab is part of the Schlegel operations, the product has industry-leading service and lead times. Custom parts can be made under tight timelines.
For a detailed product description or to order directly, visit http://www.schlegelemi.com or contact their sales team at schlegelpolyfab@schlegelemi.com or (585) 643-2000 for additional questions or support.
About Schlegel EMI
Schlegel EMI has been a trusted industry partner since it invented highly conductive fabric over foam shielding gaskets in 1987. That was a breakthrough for the electromagnetic interference shielding of electronic enclosures and helped position the company as the pre-eminent manufacturer of electromagnetic interference (EMI) shielding products.
SEM offers a full range of EMI shielding products, including FOF gaskets, Absorbers, Elastomers, Thermal Interface Materials, I/O backplane shielding gaskets, BeCu Fingerstock, Conductive foams, conductive tapes, and laminates. These enable the computer, telecommunications, military, medical, and electronics industries to meet global requirements for electromagnetic compatibility (EMC). Plus, their new line of PolyFab products.
From concept to production, SEM's complete portfolio of shielding products combines highly conductive materials with flexible foams and coatings to provide the latest EMI containment solutions. The company's world-renowned EMI shielding gaskets are available in hundreds of profiles and unique designs, with attachment options that include mechanical self-attaching, clip, rivet, and a variety of pressure-sensitive adhesives. https://www.schlegelemi.com/