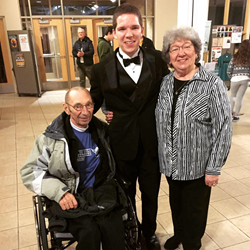 Concord, CA (PRWEB) May 02, 2017
Bay Alarm Medical (https://www.BayAlarmMedical.com), a leading supplier of senior medical alert systems, today announced the winners of its 2017 scholarship essay contest. Three deserving, inspiring students were awarded scholarships based on their essays.
The 1st Place $2,500 scholarship was awarded to Alex Carpenter, who is currently a junior at Luther College, studying to become a Geriatric Physical Therapist.
The 2nd Place $2,000 scholarship was awarded to Lauren Knasin, who is a senior at Cranston High School West. She will be attending Boston University and studying Marine Science.
The 3rd Place $1,000 scholarship was awarded to Layne Moore, who currently attends Chatham Central High School. She will be attending Campbell University and will be majoring in Kinesiology & Exercise Science (Pre-Physical Therapy).
The winners were chosen from more than 250 entries into the Bay Alarm Medical scholarship essay contest. Students were asked to submit essays describing how working with seniors has impacted their lives and taught them valuable life lessons.
"Students sent us a lot of terrific essays. We're happy to see so many young adults devoting time to help seniors live better lives," says Alan Wu, Director of Sales and Marketing for Bay Alarm Medical. "The three winners were the ones that touched us the most and met all of our entry criteria."
The essay contest was open to any graduating high school senior or college student enrolled in an undergraduate program for the 2017-2018 school year. Students were required to be involved in community service working with the elderly or to participate in caregiving duties for an elderly relative living in their home. To verify community service and/or caregiving work, students were asked submit a photo of themselves along with the senior they supported.
Wu says that his company will be offering another round of scholarships in the Fall semester.
"We're committed to helping seniors, helping young people and helping our community," says Wu. "Scholarships are a way to encourage more young people support seniors and grow from that experience."
For more information about this and future Bay Alarm Medical scholarships, visit https://www.bayalarmmedical.com/scholarship/.
About Bay Alarm Medical
Bay Alarm Medical is an arm of Bay Alarm, one of the nation's oldest alarm monitoring companies. The company offers landline, cellular and mobile GPS medical alert systems together with 24/7 monitoring by professionally training emergency operators who contact family members, friends, neighbors and, if necessary, local 911 emergency services.
For more information, visit the company's website at https://www.bayalarmmedical.com or call 877-522-9633.